This is an archived article and the information in the article may be outdated. Please look at the time stamp on the story to see when it was last updated.
SAN DIEGO – The 4-year-old boy who was left at a crash site along Interstate 5 has dies, family said Tuesday.
Valentino Fabiani Arroyo died at Rady's Children's Hospital, a little over a week after his 40-year-old father Fabiani Arroyo allegedly crashed his 2004 Nissan Titan near Rosecrans Street.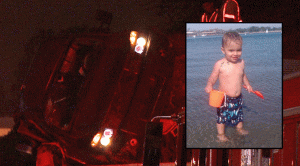 The mother of Valentino Fabiani Arroyo released a statement Tuesday:
"I am deeply saddened that Valentino has passed away from injuries sustained in the auto accident. My precious angel Valentino will forever live on in the memory of those who were blessed to have met him or know him."
The family requested in lieu of flowers and gifts, donations could be made to Valentino Fabiani Memorial Fund at Chase Bank.
Fabiani Arroyo was hauling a small water-craft trailer with a truck when he lost control near Rosecrans Street shortly after 8 p.m. Sunday, June 2, according to the California Highway Patrol.
The truck hit a guardrail and a palm tree before coming to rest on its side on top of a concrete retaining wall above Jefferson Street, CHP Officer Tommy Doerr said.
According to the CHP, the driver got out of the pickup and unsuccessfully tried to pull out the boy, who was strapped in a child safety seat. The man then re-entered the damaged pickup and freed his son, who fell about 10 feet onto a concrete and dirt sidewalk below, according to Doerr. The man then ran off to the north.
Arroyo was booked into the San Diego County Jail.  He faces hit and run and child endangerment charges.