This is an archived article and the information in the article may be outdated. Please look at the time stamp on the story to see when it was last updated.
SAN DIEGO – A 10-year-old boy died after he was shot in the chest at a Scripps Ranch condo complex Tuesday afternoon, authorities said.
A neighbor who heard a gunshot from inside a next-door home in the 10900 block of Ivy Hill Drive found the child suffering from a chest wound shortly before 4:30 p.m., according to San Diego police.
"I heard a loud pop and said that didn't sound good,"said Micheal Mee, a neighbor. " I found a boy curled up in the fetal position with a red dot on his back it looked like a gun shot…I didn't see him breathing."
Medics took the victim to Children's Hospital where he was pronounced dead.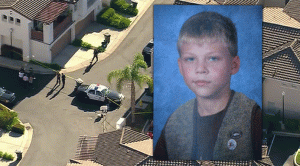 The boy, identified by police as Eric Kylaz, was inside a home with a 9-year-old girl when the gun was fired, investigators said.
It was not immediately clear if Kylaz shot himself accidentally, or if another person was responsible, SDPD Detective Gary Hassen said.
The father of the girl was taken by police for questioning, a neighbor told Fox5. Investigators said if the gun was left unsecured and accessible to children serious charges could be filed against the owner.
Residents said the garage were Klyaz was shot was known as the clubhouse for all of the neighborhood kids.
San Diego Unified School District sent a recorded message to families with children who attend schools in the area.  They will have counselors at schools Wednesday morning.