This is an archived article and the information in the article may be outdated. Please look at the time stamp on the story to see when it was last updated.
BOSTON (CNN) — Two classmates and a friend of Boston Marathon bomb suspect Dzhokhar Tsarnaev have been jailed on charges they tried to throw investigators off their friend's trail, federal prosecutors announced Wednesday.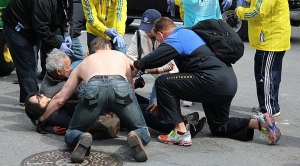 Boston police announced the arrests Wednesday morning, adding that there was "no threat to the public." The classmates, Azamat Tazhayakov and Dias Kadyrbayev, are both from Kazakhstan. They were already in federal custody on immigration charges, their lawyers told CNN.
The third suspect, Robel Phillipos, is a U.S. citizen. Tazhayakov and Kadyrbayev are charged with obstruction of justice, while Phillipos is charged with lying to federal agents probing the bombing, according to court papers.
All three are scheduled to make their first appearance before a judge Wednesday afternoon, the U.S. attorney's office in Boston said.
All three are accused of removing items from Tsarnaev's dorm room at the University of Massachusetts-Dartmouth after the bombings, which killed three people and wounded more than 260, federal officials said.
Law enforcement officials believe they helped destroy evidence that might further implicate Dzhokhar Tsarnaev in the bombing by disposing of fireworks and his laptop, a U.S. government official said.
One official said Dzhokhar Tsarnaev contacted the three after FBI agents released photographs of Tsarnaev and his older brother Tamerlan — but before they were identified by name — and asked them to dispose of the items. The suspects said they did not know the significance of what they were doing, the official told CNN.
Another federal law enforcement official said two of three lied to the FBI when asked about whether they had seen the suspects or knew of their whereabouts after the bombings.
That official said the suspects threw out backpacks of fireworks from the dorm room, leading to a two-day search of a New Bedford landfill last week.
Alan Dershowitz, a prominent defense attorney and Harvard law professor, said called the obstruction charge "weak," suggesting it was meant to pressure the suspects into providing more information on Tsarnaev.
"If that's the best the feds have now, then they're just squeezing," Dershowitz told CNN. "It doesn't sound like they have very much new here."
Tamerlan Tsarnaev died after a gun battle with police early in the morning on April 19. Dzhokhar Tsarnaev was arrested that night in a Boston suburb and is being treated for gunshot wounds at a federal Bureau of Prisons medical center in Devens, Massachusetts.
Tazhayakov and Kadyrbayev appear in a photograph with Dzhokhar Tsarnaev taken in New York's Times Square during an earlier visit. They were taken into custody last month on charges that they had violated the terms of their student visas, Kadyrbayev attorney Robert Stahl told CNN.
Stahl said Kadyrbayev "did not attend class regularly." Federal law enforcement sources said at the time that the Kazakh students were being detained "in an abundance of caution" because authorities wanted detailed information on the Tsarnaevs' movements in the weeks and days before the attack.
One of the reasons Kadyrbayev drew investigators' attention was because of changes to his Facebook page, a source briefed on the Boston probe said. Kadyrbayev and Dzhokhar Tsarnaev changed their profile photos within 15 minutes of each other in the pre-dawn hours of April 19, while the Tsarnaevs were on the run, the source said.
Tsarnaev, who appears to have had access to a wireless device at that time, changed his to a black-and-white photo, while Kadyrbayev changed his photo to one of him wearing an Iron Man mask, the source said.