This is an archived article and the information in the article may be outdated. Please look at the time stamp on the story to see when it was last updated.
SAN DIEGO—A survivor of the Boston Marathon bombing is learning to run again this weekend thanks to a special gift by the Challenged Athletes Foundation.
"You don't think about how difficult it is to learn how to do [everything] all over again," Roseann Sdoia said.
Sdoia wasn't sure if running or even walking would be possible a few months ago.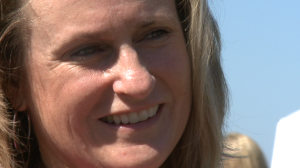 "When something's taken away from you or you don't think you'll be able to do it again it makes you miss it even more," Sdoia said.
Sdoia was cheering on friends near the finish line of the Boston marathon last April.
She lost her leg after the explosions, but she didn't lose her spirit.
"As I was coming out of the anesthesia I basically said 'it is what it is,'" Sdoia said. "I still don't comprehend what happened, but to look backwards you can't change it so the only thing you can do is move forward."
That's what she'll be doing this weekend.  She will be able to run again thanks to the Challenged Athletes Foundation.
The non-profit provides adaptive sports equipment to athletes of all ages and they've helped 8,000 people over the past 20 years.
Insurance doesn't cover things like prosthetic legs for running or wheelchairs because they're considered luxuries.
That type of leg Sdoia is getting can cost anywhere from $15,000 to $35,000 depending on the amputation.
"Really the bigger picture is to help these people with physical disabilities lead fulfilling successful lives," Challenged Athletes Foundation Executive Director Virginia Tinley said.
Sdoia flew to San Diego for the Challenged Athlete Triathlon weekend and she'll learn how to use her running leg at a clinic Saturday.
Once she takes the first step and learns how to use it, she says she isn't going to stop.
"In my mind I'm going to do everything that I did before," Sdoia said. "You want to challenge yourself because you're like 'I didn't do it before, but maybe I'll do it now just to prove to yourself that this isn't going to limit you.'"