This is an archived article and the information in the article may be outdated. Please look at the time stamp on the story to see when it was last updated.
SAN DIEGO — Fellow agents and sheriff's deputies came to the rescue of a U.S. Border Patrol officer who was injured Tuesday in a fall in a remote area near Otay Mountain.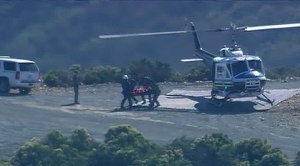 The agent radioed his colleagues about 7 a.m. to report that he had tumbled about 15-foot down a bluff in Copper Canyon while on a routine  solo patrol. He said he suffered head, leg and arm injuries, according to USBP public affairs.
Fellow Border Patrol personnel who were nearby at the time went to the injured agent's aid, stabilizing him at the scene as a sheriff's helicopter was en route to pick him up.
The aircraft personnel took him to a nearby access road, where a medics loaded him into a waiting air ambulance, USBP agent agent Gerardo Gutierrez said.
The victim, whose injuries were not believed to be life-threatening, was then flown to a hospital. His name was not released.