This is an archived article and the information in the article may be outdated. Please look at the time stamp on the story to see when it was last updated.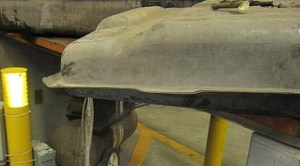 SAN DIEGO — Federal agents nabbed three would-be drug smugglers attempting to sneak millions of dollars worth of methamphetamine over the U.S-Mexico line in San Diego last weekend, authorities reported Tuesday.
The first suspected trafficker, a 32-year-old El Monte woman, drove a black 2008 Chevrolet Malibu into Otay Mesa Port of Entry from Tijuana about 4:15 p.m. Sunday, according to Customs and Border Protection public affairs.
After noticing suspicious-looking items in the car, inspectors searched it with a service dog, finding 22 pounds of liquid methamphetamine inside nine juice cans in the trunk and another 51 pounds of the drug in 34 packages hidden in a non-factory compartment behind the rear passenger seat.
The narcotic haul had a total estimated street value of roughly $1.03 million.
About 90 minutes later, officers staffing San Ysidro Port of Entry were looking over a white 1995 Ford F-150 when they noticed that the driver appeared nervous.
They referred the 32-year-old woman and her 36-year-old female passenger, both U.S. citizens who live in San Bernardino County, to a secondary search area. There, the personnel discovered 107 pounds of liquid methamphetamine worth about $2.14 million concealed in the gas tank of the pickup truck.
All three suspects were turned over to Homeland Security Investigation agents. The women's names were not released. CBP officers seized the vehicles and narcotics.