This is an archived article and the information in the article may be outdated. Please look at the time stamp on the story to see when it was last updated.
SAN DIEGO – U.S. Border Patrol agents found three Mexican nationals inside a box in the back of a recreational vehicle, authorities said Thursday.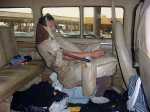 The RV was passing through a checkpoint near Indio on Wednesday when Border Patrol dogs alerted authorities, officials said.
Inspection agents discovered a wooden box under a bed inside the RV, unscrewed the top and found the three men crammed inside, according to authorities.  The men were between the ages of 17 and 21.
The driver and an 18-year-old passenger, both U.S. citizens, were arrested.