This is an archived article and the information in the article may be outdated. Please look at the time stamp on the story to see when it was last updated.
SAN DIEGO – U.S. Customs Agents discovered a man hidden in a shipment of wood shavings Tuesday at the Otay Mesa Cargo port of entry, authorities said.
The shipment from Mexico was inside a large trailer hauled by a 2009 Freightliner truck. A Customs and Border Protection officer referred the 43-year-old Mexican truck driver to secondary inspection. Officers scanned the trailer with an imaging system and saw something suspicious.
"In this situation, the truck trailer was x-rayed using the imaging system and we detected an anomaly, so we just did our inspection, went up there, removed the tarp from the top of the trailer and discovered one man hiding inside," said Customs and Border Protection Supervisor Shalene Thomas.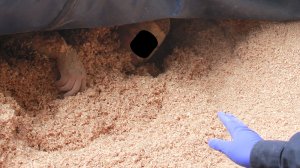 When they pulled the tarp off the load, they found an undocumented man hidden under the wood shavings.
"We actually took him to a hospital to be evaluated," Thomas said. "Who's to say how long he was in there and what kind of damage was done, so in order to make sure that we did our diligence to make sure that this person was adequately checked out and safe, we took him to the hospital, got him evaluated and then he was released."
After the man was released from the hospital he was taken into custody, along with the driver of the truck.