This is an archived article and the information in the article may be outdated. Please look at the time stamp on the story to see when it was last updated.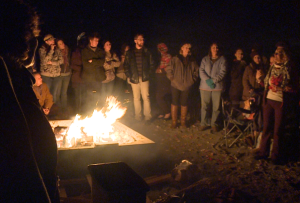 LA JOLLA SHORES, Calif. – Dozens of family and friends attended a bonfire in La Jolla Shores Monday night to honor the man killed in a hit-and-run in North Park.
Meanwhile, San Diego Police are also releasing new information about the vehicle they believe is involved.
In the light of the fire, loved ones smiled and cried. They remembered the good times with Seamus O'Bryan and mourned the realization his life was taken far too soon.
"There were so many people that my brother touched," said Devin O'Bryan. "It's just so powerful and such an honor to have someone like that that was a role model for me."
O'Bryan died Friday when his motorcycle was struck in a hit-and-run at the intersection of University Avenue and Granada Avenue. His friend, Peter Newbigin, was riding on the back and amazingly walked away without any injuries.
"The moments that he lived for were the moments he was in," said Newbigin. "He wasn't a man caught up in the past or things that might have been. He took every instant in front of him and he made it something. There's not a moment that I spent with him that he didn't make an amazing experience."
The dozens of people gathered around the bonfire knew O'Bryan from all walks of life. He was a humanitarian, avid sailor and lover of theatre.
Friends said they would never forget his smile and laugh. His mother even recalled a moment from his childhood.
"He just looked at me in that beautiful broad smile and it was like he just melted my heart," said Marty O'Bryan, mother. "And he taught me to be a better mom."
San Diego Police released new information Monday on the vehicle they are looking for in connection with the crime. Detectives said they are looking for an off-white 1998-2000 Cadillac El Dorado ETC sedan. The car may have minor to moderate damage to the passenger side fender, door or bumper. They also believe the vehicle has tinted windows and stock wheels.
As police continue the search for the car, the O'Bryan family is extending forgiveness to the driver involved.
"We're a family of love and we have no anger at all," said Devin O'Bryan. "We have compassion. We understand it's gotta be scary. It's gotta be so tough. And we're just looking for healing, as well, for whoever that person may be."
They hope everyone will take a lesson from Seamus and live each day to the fullest, in the present and not the past.