This is an archived article and the information in the article may be outdated. Please look at the time stamp on the story to see when it was last updated.
POWAY, Calif. — A phony bomb threat forced a lockdown at Poway High School Wednesday morning.
The security measure went into effect at the Espola Road campus about 10 a.m., according to Poway Unified School District officials.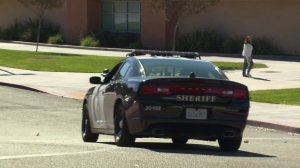 San Diego Sheriff's Department were called by school officials at 9:43 a.m. after the school found a note stating there was a bomb in a school restroom, deputies said.
Students were secured in their classrooms and continued with their studies as deputies swept the grounds and rooms with service dogs, PUSD spokeswoman Jessica Wakefield said. Campus administrators sent the following email to the families of students during the lockdown:
Parents and Families of PHS, the Poway High School Administration has received an unspecified potential threat against our campus and has gone to lockdown as a precautionary measure. Sheriffs are currently on campus and we are working cooperatively with them to ensure the safety of our students and staff. We are in contact with our teachers advising them of next steps as we get more information. All students are safe and in classrooms. We will follow up with communications as we know more.

PHS Administration
The school lock down was lifted just after noon after no hazardous items or materials were found, a parent waiting outside the school told Fox 5.
It was not immediately clear how the threat was issued or who was responsible.