This is an archived article and the information in the article may be outdated. Please look at the time stamp on the story to see when it was last updated.
CHULA VISTA, Calif. — The San Diego County Sheriff's bomb squad was called to the courthouse in Chula Vista Friday morning to determine if an unattended backpack found there was dangerous, officials said.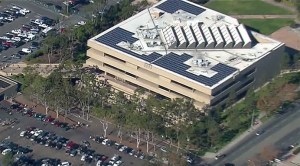 The backpack was reported at 8:44 a.m. at the court building at 500 3rd Ave., according to a sheriff's dispatcher.
Police and deputies cordoned off the area around the backpack and did not allow anyone to enter the courthouse. People already inside were not allowed to leave.
Bomb technicians examined the pack with a robot and determined that it was harmless at around 10:30 a.m.  The pack contained several Playboy magazines.
Officers declared the area safe and allowed people to enter and leave the building just before 11 a.m.