This is an archived article and the information in the article may be outdated. Please look at the time stamp on the story to see when it was last updated.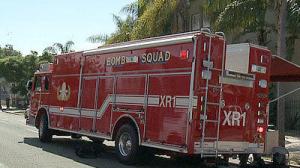 SAN DIEGO – A suspicious device found on the University of San Diego campus Saturday prompted a visit from police and the bomb squad, but it was rendered safe, police and fire officials said.
A cylindrical device with batteries and wires attached was found in a dorm room on the campus off Linda Vista road near Via Las Cumbres and university safety team called the San Diego Fire-Rescue Department, agency spokesman Maurice Luque said.
The bomb squad was dispatched to the scene about 1:15 p.m. and was left the scene within three hours, according to an SDFRD dispatcher.
San Diego police were called to assist USD's department of public safety, which led the investigation, according to Officer Frank Cali.
No injuries or damage were reported, Cali said.