This is an archived article and the information in the article may be outdated. Please look at the time stamp on the story to see when it was last updated.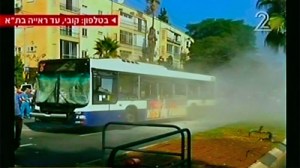 NEAR THE ISRAEL-GAZA BORDER (CNN) — Militants took their fight with Israel into the heart of the country Wednesday, exploding a bomb on a public transport bus in Tel Aviv. The attack is likely to complicate already tenuous efforts to achieve a cease-fire.
The blast injured 22 people, shook up the Israeli public and drew immediate condemnation from world leaders, including U.N. Secretary-General Ban Ki-moon, who called it "shocking." The White House labeled the strike a "terrorist attack," and Secretary of State Hillary Clinton said the United States "stands ready to provide any assistance that Israel requires."
Hamas praised the attack, which struck close to the headquarters of the Israel Defense Forces, or IDF. But the group did not claim responsibility.
"We told you #IDF that our blessed hands will reach your leaders and soldiers wherever they are," the al Qassam Brigades, the military wing of Hamas, said on Twitter. "You opened the Gates of Hell on Yourselves."
Meanwhile, overnight and into Wednesday, Israeli bombs and artillery turned buildings, tunnels and bridges in Gaza into rubble in 100 strikes confirmed by Israeli authorities. Hamas struck back with at least 62 rockets aimed at southern Israel, according to the Israeli military.
The violence dimmed hopes for an immediate cease-fire, just hours after a halt in the violence seemed tantalizingly close. Furious diplomatic efforts to revive the talks were under way Wednesday. Their prospects were unclear.
Analyst Stuart Holliday, president and CEO of Meridian International Center, said it is too early to say whether the bus bombing will fully derail diplomatic efforts.
But, he said, "You can bet Israel will step up and respond accordingly."
The bus attack happened in a typically quiet neighborhood of Tel Aviv.
Two people, speaking live on Israeli radio, said they saw a man throw a bag into the bus and then run away after the explosion.
Terrorists planted at least two bombs on the bus and fled, Israeli police spokesman Micky Rosenfeld said. Only one of the bombs exploded, blowing out the windows of the bus but leaving the vehicle otherwise intact, he said.
Images on Israeli TV showed white smoke rising from the bus as police and witnesses milled outside. Police cordoned off the street. At least one passenger was taken out on a stretcher.
Rosenfeld said three of the victims were seriously wounded. Aviva Shemer with Ichilov Hospital said 22 people went to the hospital after the explosion, including some pedestrians.
One victim was in serious condition with shoulder injuries, while two others suffered moderate injuries from glass fragments. Some of those being treated suffered panic attacks, Shemer said.
Rosenfeld said he did not have information about arrests, but Israel's Channel 10 reported that one suspect had been apprehended.
Israeli authorities have stepped up security nationwide, with additional police on the streets and more plainclothes police officers patrolling public areas, Rosenfeld said.
Tel Aviv resident Audrey Shemesh, who lives in an apartment building overlook the scene of the explosion, said the attack had shaken her confidence in peace.
"They want us dead, and this is really sad," Shemesh said of militants battling Israel, "For now I don't see any solution. They don't want to stop this. They just want to go on and on and on. It's really sad because I believe in peace."
Hamas put its own spin on the attack in a banner on al-Aqsa, its television station.
"Hamas blesses the suicide bombing and assures that it is a natural response to the massacre of the al-Dalou family and targeting of innocent Palestinian civilians."
Nine members of the al-Dalou family died in an Israeli airstrike on Sunday, provoking outrage among Palestinians.
There was no immediate response from Israeli leaders to the Tel Aviv bus attack Wednesday and it was not immediately apparent whether it could prompt Israel to step up its offensive or unleash the thousands of troops it has massed at the Gaza border in preparation for a possible ground offensive.
Tuesday night, it seemed a cease-fire, or at least a temporary calming of the violence, was imminent.
A senior Hamas official had told CNN that a "calming down" was to take place, and Egyptian President Mohamed Morsy, who has tried to broker a peace deal, said Tuesday that the "travesty of the Israel aggression on Gaza will end in a few hours."
After a few hours, Morsy's office told CNN not to expect any announcement.
On Wednesday, Mousa Abu Marzouk, the deputy leader of Hamas in Cairo, blamed Israel.
"The Israelis did not respond last night at our revised conditions relayed to them through the Egyptian intelligence," he said. "Talk of a temporary cease-fire or 'calming down' was brought to the table, yet they escalated their air strikes late last night as we were trying to reach any sort of cease-fire."
Israeli President Shimon Peres, however, said Hamas was asking for conditions that Israel simply cannot meet.
"They want Israel to do nothing. We shall not fly over, we shall not guard the border," he told CNN's Wolf Blitzer. "Many others. The conditions of Israel is basically security conditions. Their conditions are political ones and this is a contradiction."
The IDF said it had targeted "dozens of terror infrastructure sites," overnight, including Hamas' Ministry of Internal Security, which it saw as a "main command and control center."
Forces also took aim at a police compound, a "military hideout," and other targets it linked to what it called Hamas' "terror activity."
The Israeli military also struck a media building, where it said Hamas "deliberately located" an "intelligence operation center," and a system of tunnels used to transport fuel.
Militants lobbed rockets and missiles toward Israel, targeting military bases, radar sites and numerous cities, including Beer Sheva, according to the al Qassam Brigades' Twitter feed.
A rocket alarm howled in the Israeli city of Ashkelon shortly after 7:30 a.m. Wednesday, just minutes after Hamas' TV broadcaster al-Aqsa reported its militants' rockets striking there as well as in the towns of Sderot and Ashdod. CNN's Fred Pleitgen in Ashkelon heard two impacts but could not yet say if the rockets hit anything.
All told, militants had fired 62 rockets from Gaza as of Wednesday afternoon, with 42 landing in Israel, according to the IDF. The Israeli military's Iron Dome defense system intercepted the other 20, the IDF said.
Diplomatic efforts to find a solution to the conflict continued Wednesday. Diplomats hope to avoid a repeat of 2008 and 2009, when at least 1,400 people died when Israeli troops invaded Gaza after a similar spate of rocket attacks.
At least 142 people have died in Gaza since the Israeli airstrikes began, according to the Ministry of the Interior in Gaza. Another 1,180 have been injured, the ministry said. In Israel, five people have died and 70 have been wounded, according to authorities.
Clinton shuttled between meetings with Palestinian and Israeli leadership Wednesday, then moved on to Cairo for meetings with Morsy.
She met early Wednesday with Palestinian Authority President Mahmoud Abbas in Ramallah in the West Bank, according to the U.S. Embassy, as well as with Israeli Prime Minister Benjamin Netanyahu in Jerusalem for a second day.
Abbas told Clinton that Gaza is facing a humanitarian crisis and that an immediate cease-fire is needed, according to the official Palestinian news agency WAFA.
Clinton is not expected to travel to Gaza, which is run by Hamas, considered a terrorist organization by the United States and other countries.
Ban also met with Abbas in Ramallah Wednesday morning.
"Today the situation in Gaza is deeply alarming," Ban said, standing next to Abbas at a news conference. "Rockets aimed at military targets inside Gaza are killing and injuring civilians and damaging… civilian infrastructures."
He demanded that diplomacy pave the way forward and called for the emergence of a Palestinian state.
Pope Benedict, speaking from Vatican City, also issued a plea for peace.
"I feel the duty to reiterate once again that hatred and violence are not the solution to problems," he said.