This is an archived article and the information in the article may be outdated. Please look at the time stamp on the story to see when it was last updated.
RAMONA, Calif. — A body was found Wednesday on the Barona Indian Reservation near Ramona and police were investigating if it was that of a woman missing San Diego woman, authorities said.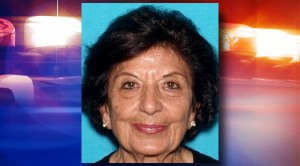 The body was found round 3:15 p.m. in the vicinity of San Vicente Oaks Road and Wild Cat Canyon Road, says Lt. Clayton Lisk of the San Diego County Sheriff's Department. The body was found under a tree and appeared to have been there for several days, investigators said.
A reservation security official at the scene said a sheriff's search and rescue team found a woman's body.
San Diego police detectives responded to investigate if the remains are those of 79-year-old Mehria Mansury, who disappeared the morning of Sept. 24 after leaving her home in the 2800 block of Amulet Street, authorities said. Mansury shared her home with an adult daughter, but another relative, not the daughter, was the person who reported her missing.
Teams have searched for several days, hiking through overgrown open areas in and around Mansury's neighborhood near Qualcomm Stadium looking for the woman, who is described as Middle Eastern, 5 feet, 1 inch tall, around 140 pounds with brown hair and brown eyes.
San Diego police Lt. Jorge Duran said he could not confirm the gender of the body or the cause of death, but investigators said they were talking with Mansury's daughter and executing another search warrant at the missing woman's home.
Mansury's friends have raised $5,000 of a $6,000 reward for information leading to her recovery, with San Diego County Crime Stoppers posting the remainder.
Anyone with information about Mansury was urged to call Crime Stoppers at (888) 580-8477 or contact it online at sdcrimestoppers.com. Tipsters may remain anonymous.