This is an archived article and the information in the article may be outdated. Please look at the time stamp on the story to see when it was last updated.
SAN DIEGO – Police are investigating after a body was found Wednesday morning near City College.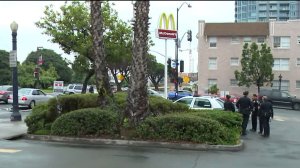 The body of a man was found in traffic lanes near Park Boulevard and B Street around 5:30 a.m., authorities said.
Investigators told FOX 5 that the death does not appear to be "suspicious," which normally means they  don't believe it is the result of criminal activity or a homicide.
No further details have been released.  Check back for more details on this developing story.