This is an archived article and the information in the article may be outdated. Please look at the time stamp on the story to see when it was last updated.
SAN DIEGO – A body was found in a restroom stall near a kid's playground located at the border of Pacific Beach and Mission Bay Tuesday morning, authorities said.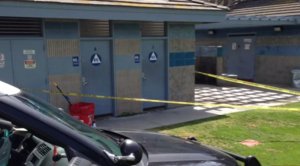 A man's body was found around 7:40 a.m. in one of the restroom stalls at Fanuel Park, along Bayside Walk, San Diego Police Officer Billy Hernandez said.
Police did not have homicide detectives come to the location due to the man appearing to have died of natural causes, he said.
The restrooms are located feet away from a playground where parents and kids spend time.
No other details were released.