This is an archived article and the information in the article may be outdated. Please look at the time stamp on the story to see when it was last updated.
OCEANSIDE, Calif. – Police have blocked off a residential street in North County after a bloody body was discovered in the yard of a home in the neighborhood.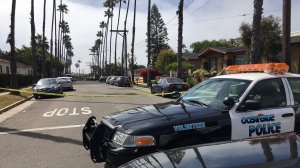 A viewer called FOX 5 around 9:25 a.m. Tuesday and reported that the body of a man was lying in the grass in a neighbor's yard in the 2000 block of South Tremont Street in Oceanside. The body appeared to be that of a young man whose face was badly beaten, the caller said.
Police said the body was reported to them just after 8 a.m. Patrol officers had blocked off several blocks on South Tremont Street.
Oceanside police said an 18-year-old white man's body was on the ground with blood on his face and abrasions to his arm.
Nobody has been arrested as of 11:30 a.m.
Detectives ask anyone with information to call OPD at 7600-435-4911.
#developing: Oceanside police investigating suspicious death on Tremont St. Man found lying in the front yard of a home. pic.twitter.com/gzcJinUQCe

— Aric Richards (@AricFOX5) May 2, 2017
This developing story will be updated as more information becomes available.