This is an archived article and the information in the article may be outdated. Please look at the time stamp on the story to see when it was last updated.
AUCKLAND, New Zealand — New Zealand police searching for missing British backpacker Grace Millane say they have found a body, state broadcaster Radio New Zealand reported Sunday.
Millane, 22, was last seen at the Auckland city center the evening of December 1.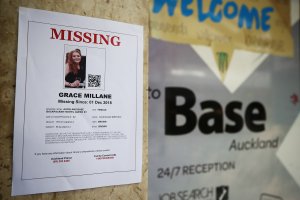 Saturday, police said they believed Millane was dead and that a man seen with her in Auckland the night she disappeared will be charged in her death.
Police said Sunday they are conducting a full scene examination of an area in Henderson, West Auckland. The location is bush-clad and contains one of the city's reservoirs.
Detective Inspector Scott Beard said Sunday afternoon that a body believed to be that of Millane had been found, but was yet to be formally identified, Radio New Zealand reported.
For days, local police had searched for Millane but new evidence changed the course from a missing person investigation to a murder case.
"The evidence we have located so far — our scene examination, CCTV footage and our investigation, has determined that Grace is no longer alive and this is a murder investigation," Auckland Police Detective Scott Beard said at a news conference Saturday.
Police said they detained a 26-year-old man seen with her on the night of her disappearance, and will charge him Monday with Millane's murder. They said they believe he and Grace visited a number of locations that evening, and they are looking for information on a vehicle linked to the case.
Millane had been in New Zealand for two weeks, the UK's Press Association news agency reported.
Beard said Millane was out of contact with her parents for days and they were especially worried that they could not reach her last Sunday for her 22nd birthday. Members of Millane's family have made appeals on Facebook for information.
"The Millane family have requested privacy at this time and will not be making any further statements at this stage," the Auckland city police's statement said.