This is an archived article and the information in the article may be outdated. Please look at the time stamp on the story to see when it was last updated.
SAN DIEGO — Homicide detectives are investigating a body found in the trunk of a car parked in front of a sandwich shop in Kearny Mesa.
Police made the discovery while following up on a missing person's alert.  As they patrolled the 7700 block of Convoy Court, they made the discovery.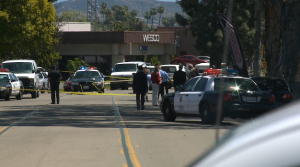 "When detectives were inspecting the vehicle they located the body of a female inside," said Lt. Jorge Duran, San Diego Police Homicide Unit.
Police discovered the female body in the trunk of a silver, four-door Toyota Camry sedan parked on street at about 9:30 a.m. Thursday. People who work in the area said the car had been parked there for more than a week.
Investigators said the victim had suffered trauma to her body.
"I would say blunt force trauma maybe, maybe a stabbing type of thing," said Lt. Duran.
Duran added the victim was recently reported missing, but he would not confirm the identity.
"It is a missing person I would say a couple of weeks probably, they've been missing for a couple of weeks," said Lt. Duran.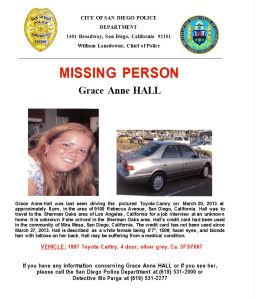 Lt. Duran said the car belongs to Grace Anne Hall, a 23-year-old San Diego woman who was last seen about one month ago.  She was reported missing March 20th.  Hall was apparently on her way to a job interview in Sherman Oaks, but was never heard from since.  Police say her credit card was used March 27th in the Mira Mesa area, but she was never heard from.
Police did not confirm if the identify of the person found in car was Grace Hall.
The body has been taken to the Medical Examiner's office for further investigation.  At this time the death is being ruled as "suspicious", but signs already point to homicide.
"When a victim is found in a trunk it's typically foul play," said Lt. Duran.  "They wouldn't voluntarily go in the truck of a vehicle let's put it that way."
Investigators were withholding the name of the person until they had a positive identification and family members could be notified..