This is an archived article and the information in the article may be outdated. Please look at the time stamp on the story to see when it was last updated.
SAN DIEGO – Former Mayor Bob Filner's three-month term on house arrest is reportedly due to end.
The period of home confinement and GPS monitoring was the result of his guilty pleas last fall to false imprisonment and battery, stemming from allegations of sexual harassment by at least 20 women.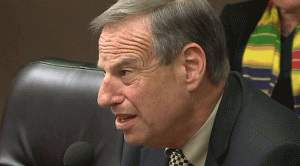 "I have not seen him yet," said Filner's neighbor Mike Goss.  There was plenty of buzz around his downtown building.  Residents have a private parking area and Filner's neighbors think its possible he has left and come back without anyone noticing.
The improprieties led the 71-year-old former Democratic congressman to leave office last Aug. 30.
He was sentenced Dec. 9 in San Diego Superior Court, but his GPS monitoring system was set up a week after it was supposed to have been, lawyer
Earll Pott told U-T San Diego.
Filner remains on three years probation which will include a travel restriction according to attorney Jan Ronis.  "There is a travel restriction.  He cannot leave the county of San Diego without permission from his probation officer," Ronis explained.
Eighteen months after his sentencing, Filner can apply to have his probation reduced to informal probation. He can also petition to have his felony conviction reduced to a misdemeanor. Filner was required to undergo mental health treatment while under court supervision. He also was fined $1,500.
According to a sentencing memorandum submitted by his defense team, Filner — once he became mayor — failed to keep up "with his longstanding
exercise regimen and course of psychiatric counseling and medications that had been prescribed by congressional doctors to help stabilize his mood and safeguard his mental health.
"The sudden disruption in his medications, coupled with longstanding issues of anxiety and the stress of assuming a new, intensely political executive position substantially contributed to conduct, described in the probation officer's report, which has brought Mr. Filner before this court," according to the defense memo.
Supervising state Deputy Attorney General Melissa Mandel told Presiding Judge Robert Trentacosta in October that Filner, while attending a fundraiser
on March 6 of last year used "greater force than necessary" to restrain a woman against her will and used additional force to overcome her resistance, in a move that became known as the "Filner headlock."
Mandel said he used force and kissed another woman on the lips without her consent at a "Meet the Mayor" event on April 6, 2013.
Filner also admitted grabbing a third woman on the buttocks after she asked to take a picture with him at a May 25 rally at Fiesta Island.