This is an archived article and the information in the article may be outdated. Please look at the time stamp on the story to see when it was last updated.
SAN DIEGO – Former San Diego Mayor Bob Filner's criminal case will wrap up Monday as he is sentenced for sexual harassment.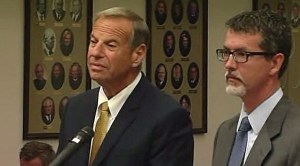 WATCH LIVE: Filner sentencing at 9 a.m. Monday
In October, the 71-year-old politician pleaded guilty to grabbing and mistreating women while in office.
Under the plea deal, the Attorney General's office said Filner will avoid jail time, but will be placed on probation for three years, and is expected to spend three months under home confinement.
Filner also will be barred from ever seeking or holding public office, and will be required to get mental health treatment under court supervision.
Interim mayor Todd Gloria, who is filling Filner's seat until a newly elected mayor is chosen, said he is not focused on the case and is getting the city back on track.
"I'm not focused on that at all," said Gloria. "The city has moved on, I have moved on. I am focused on getting the city on track and getting ready for the new mayor to join us come March."
While his criminal case comes to an end, Filner's court battles are far from over.
He already has at least one civil lawsuit filed against him by his former communications director Irene McCormack Jackson.
She was the first of nearly 20 women who publicly accused the former mayor of sexual harassment. She and her legal team are demanding $1.5 million in damages.
Under Monday's plea deal, Filner will also have to surrender his mayoral pension accrued from the time of the felony offense which occurred on March 6, 2013.