This is an archived article and the information in the article may be outdated. Please look at the time stamp on the story to see when it was last updated.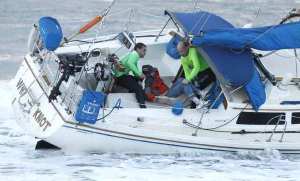 An allegedly intoxicated man ran his sailboat aground in Laguna Beach and had to be removed from the vessel by force, authorities said.
Stephen Fryer, 47, of San Diego was arrested on suspicion of piloting a vessel while intoxicated, Laguna Beach police said.
The 30-foot sailboat, dubbed Why-Knot, got stuck in the surf zone off Cleo Street Beach shortly after 3:30 p.m. When police, firefighters, the U.S. Coast Guard and lifeguards responded they found the boat's engine running and Fryer holed up in the cabin.