This is an archived article and the information in the article may be outdated. Please look at the time stamp on the story to see when it was last updated.
The discovery of a Mexican smuggling boat, which was carrying nearly a ton of marijuana, is part of a growing trend on the beaches of Southern California.
Border Patrol agents spotted the panga boat just before 3 a.m. Saturday in waters illuminated by a full moon.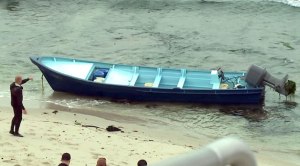 After the vessel came ashore near 44th Street, authorities discovered 1,850 pounds of marijuana and two Mexican men, according to the U.S. Immigration and Customs Enforcement agency.
The men were taken into custody for questioning, ICE said.
Maritime smuggling has been on the rise as federal authorities fortified border and airport enforcement.
In the last two years, encounters with ocean-going smugglers has nearly doubled, with the sharpest increase along secluded beaches in Ventura and Santa Barbara counties, though the greatest number still occur in San Diego, Orange and Los Angeles counties, according to customs officials.
In 2008, there were 45 human-smuggling-related incidents, most of them in the San Diego area. In 2012 there were more than 200.