This is an archived article and the information in the article may be outdated. Please look at the time stamp on the story to see when it was last updated.
SAN DIEGO – San Diego firefighters put out a second-alarm fire aboard a research vessel in the San Diego Bay Sunday afternoon.
The ship caught fire while docked at the Tenth Avenue Marine Terminal around 2:30 p.m. and was extinguished about 40 minutes later, authorities said.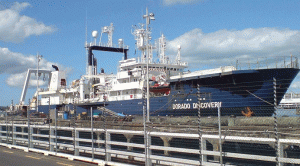 The fire sparked below deck in a chemical storage area and is believed to have been caused by an electrical problem.
No injuries were reported.  About 30 crew members evacuated the ship.
A hazmat team made sure there were no chemical spills in the bay.
"There were no materials that had to be discharged into the bay.  That's really important because any time you have water going into the bay you have to monitor it for environmental effects.  In this case, they were able to extinguish it using CO2 gas which is harmless once it dissipates," said Tanya Castaneda with the Port of San Diego.
The Dorado Discovery is a 321-foot Scottish-flagged minerals research vessel that arrived in San Diego last week to do exploration off the coast of Mexico.