This is an archived article and the information in the article may be outdated. Please look at the time stamp on the story to see when it was last updated.
SAN DIEGO – A flood is working its way through San Diego cleaning up the streets, but it has nothing to do with water.
"We noticed it right off the bat," said Denny Knox of Ocean Beach Mainstreet Association.  "Lots of police, lots of police cars."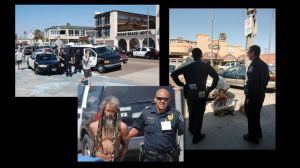 The Blue Tsunami moved into Ocean Beach over the weekend.   It's the newest crime fighting tool for the western division of the San Diego Police Department.
"It's a wave of blue uniforms and black and white police cars," said Lt. Natalie Stone.
"Whether it's street robberies, transient issues assaults or whatever we're here to address it.
Lt. Stone said the division devised the operation after the community raised numerous concerns about crime.
"We hear the community business owners loud and clear and we're going to address those," said Lt. Stone.
Once a month, the Blue Tsunami will roll out and work to wash out crime in various San Diego neighborhoods.
"Our area covers from the to North Park, from Linda Vista down just right north of the airport," said Lt. Stone.  "Wherever we feel that we need to address the criminal element."
The unit also works as a deterrent to would be would-be criminals, all without added costs to the department.
"We have extra bodies," said Lt. Stone.  "It's a time officers would normally be coming in and the second watch officers were going out.  There's kind of a gap and that's when we hit the streets."
In the first wave of the Blue Tsunami, officers made eight arrests, detained several juveniles and cleared what locals in Ocean Beach call the traveling population.
"These are people that just land in town they panhandle very aggressively," said Knox.  "They just don't respect our community they leave trash everywhere."
However, not everyone sees this new wave of law enforcement as effective.
"I think they need to pay attention to what's going on around here and do what they need to do and not just make a sweep on people," said Gary Corio, a business owner.
Another sweep is already in the works, but where and when?
"We can't tell you where we're going next or it wouldn't be a surprise," said Lt. Stone.