This is an archived article and the information in the article may be outdated. Please look at the time stamp on the story to see when it was last updated.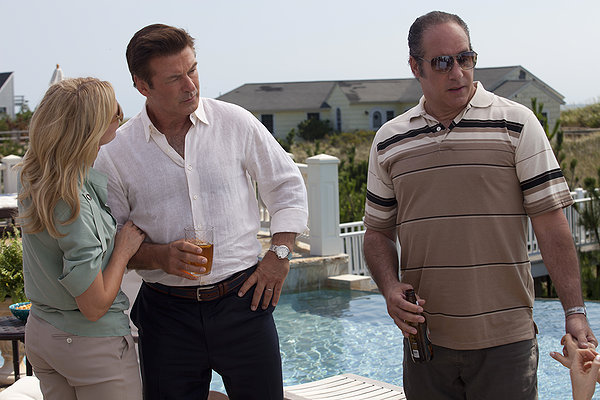 I'm somebody that thinks when actors and filmmakers do despicable things, we should boycott them. Yet Mel Gibson keeps making movies. Roman Polanski wins Oscars, and Woody Allen is still praised by the critics. What's even more baffling about the critics praising him for this movie is the fact that it's not very good.
He uses Alec Baldwin again (another person people should boycott for his continued boorish behavior).
The cast is the one good thing about this movie. Cate Blanchett will probably get an Oscar nomination, and she is great. Blanchett channels Blanche DuBois, in what would've been a more interesting character if the script wasn't so weak.
Baldwin plays a philanderer that is pulling a Bernie Madoff type of scam on folks. He's a natural in the role.
Michael Stuhlbarg, who was so great in Men in Black III and the criminally under-seen Coen brother's movie A Serious Man, is well cast as a dentist.
Comedians Louis C.K. and Andrew Dice Clay are fine in their roles, although I never stopped wondering if they were there soley for sight gags. The crowd laughed when each one appeared on screen, merely because they recognized them. Neither had a single humorous line in the movie.
It's only the Peter Sarsgaard character that I couldn't quite figure out. He was a diplomat who is eyeing a run as a politician, and seems to be interested in Jasmine since it fits with his career aspirations.
Sally Hawkins (An Education, Submarine, Never Let Me Go) is the naïve, working class sister that let's Jasmine (Cate Blanchett) live with her in San Francisco. Jasmine lost everything and seems to have a series of nervous breakdowns. And yes, that means she'll do many of her lines as if she were Woody Allen. In fact, most of the characters do.
I can feel Jasmine's pain as she struggles through a computer class and is trying to find work and love later in life. Blanchett brings a lot to the table. I particularly enjoyed a scene where her sister brings a boyfriend and his friend to their lunch for a double-date. It's one of the few well written scenes.
We see flashbacks to her living the high life back east, and watch her fall from grace. There's an interesting performance from Bobby Cannavale, who is a grease monkey that Jasmine dislikes. As you watch him, you realize he's a doofus, but he's still likable. It's fun watching him trying to set Jasmine up with his friend.
"He can't ask for your phone number. He thinks he's short," he explains to Jasmine awkwardly, after his extremely short friend tells her she'd be hot as a nurse. We just shake our heads in disbelief.
I think it's interesting that Woody Allen has written characters the last decade that are self-involved losers. The problem is that his writing is rather lazy. The critics praised Vicky Cristina Barcelona, which wasn't very good. I don't even remember the name of the movie he did with Larry David playing the lead. It was bad. And now this film, with uninteresting flashbacks and weird tonal shifts.
Actors always clamor to work with Woody Allen, and it amazes me that none of them ever look at a script like this and say "I think it needs a rewrite."
Alec Baldwin has no qualms about yelling at flight attendants or punching a paparazzi…yet he can't tell the great Woody Allen, "This is subpar material."
Surely these actors have seen Small Time Crooks and some of the other bad Woody pictures. Do they think everything he does is going to be Midnight in Paris or Annie Hall?
In honor of Andrew Dice Clay, who surprisingly plays the only likable character in the movie, I thought I'd end the review with how I suspect the Dice man would've reviewed this circa 1989.
(read the following in Clay's annoying New York accent):
Jack and Jill went up to Landmark/To watch the new Woody Allen.
Jack got mad, Jill said it was bad/Next time we'll watch Tim Allen….you f**k!
Little Miss Muffet, sat in the theatre, watching this crappy movie.
Along came her mother, and then there was another –
The audience all screamed "What's with this movie, b**ch?!
Little Boy Blue…because he was Mia Farrow's adopted son!
Okay, enough of that. The movie had good performances in a bad screenplay. I can't give it more than 1 ½ stars out of 5.