This is an archived article and the information in the article may be outdated. Please look at the time stamp on the story to see when it was last updated.
SAN DIEGO – Blue Hawk crews touched down at the Coronado Naval Air Station Wednesday morning after a 7-month deployment, including a mission to search for the missing Malaysian Flight 370.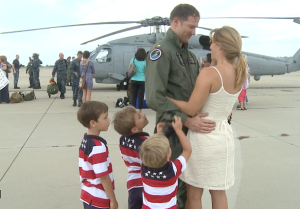 "Its amazing, I miss my wife and little boy so much … they are what I look forward to when coming home," said Navy sailor Andrew J. Boyle.
While away from home, the crews were sent on a mission to search for the missing Malaysian airliner.
"We felt a lot of gratitude for helping them out but it's our job. We tried our best to facilitate whatever they needed," said Navy sailor Robert Flores.  "If it was my mom or my sister or my girlfriend … I would do everything to find them."
The Blue Hawks, a group of military sailors and airmen, spent 7-days on the water and 50-hours in the air over the Indian Ocean where the plane disappeared from radar.
The sailors specialize in anti-submarine warfare and the most daring search and rescues, but when it came to the missing airliner, they couldn't share much of the mission.
With the completion of one journey, sailor Robert Flores picked this day to start a new one as he got down on one knee and proposed to his girlfriends with his grandmother's ring.
"I feel like the luckiest girl in the world," said his blushing new fiancé.