This is an archived article and the information in the article may be outdated. Please look at the time stamp on the story to see when it was last updated.
SAN BERNARDINO, Calif. – Firefighters continue to make progress on the massive Blue Cut Fire and was 83 percent contained Sunday morning, KTLA reported.
Lytle Creek residents were allowed to return home Sunday at 10 a.m., when the mandatory evacuations were reduced to voluntary, San Bernardino County Sheriff's officials said. Residents must show identification at a road closure along Glen Helen Parkway.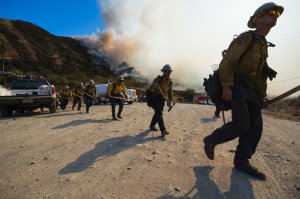 The community of West Cajon Valley remains under mandatory evacuation orders and about 610 structures remain threatened, officials said.
Residents of the Wrightwood community were allowed to return home after mandatory evacuations were lifted Saturday afternoon.
The blaze has scorched through nearly 58 square miles in San Bernardino County, destroyed 105 single-family homes and 213 buildings and has affected hundreds of thousands of residents in several communities since it started Tuesday along the Cajon Pass.
The fire did not grow overnight, officials said in the federal incident page for the blaze.
Interstate 15 has reopened, but authorities are asking motorists to drive carefully in the area as crews continue to work and intermittent lane closures are expected during repairs.
Evacuation centers for residents and animals remain open.