This is an archived article and the information in the article may be outdated. Please look at the time stamp on the story to see when it was last updated.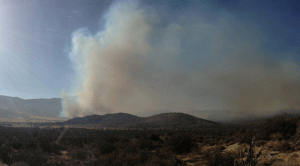 SAN FELIPE, Calif. — Crews working to extinguish an East County wildfire that began as a prescribed burn had the 1,800-acre burn zone east of Julian about 60 percent contained as of Friday afternoon.
An unexpected wind shift caused the blaze in the San Felipe area, north of State Route 79, to begin spreading uncontrollably through rugged, remote terrain shortly before 12:30 p.m. Thursday, according to Cal Fire.
Though it became much larger than intended, the fire — originally planned as a roughly 100-acre brush-clearing operation — never posed any structural threats, the state agency reported.
One crew member suffered a minor injury while working the lines.
Cal Fire had no estimate for full containment of the blaze.