This is an archived article and the information in the article may be outdated. Please look at the time stamp on the story to see when it was last updated.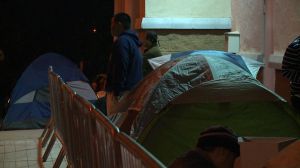 Thursday shoppers waited outside a variety of San Diego stores anxious for the doors to open.
At the Target on Sports Arena Boulevard Victor Cantore got in line around 2:30p.m. The doors were set to open at 9.
"This is my fourth year doing it," said Cantore.
Cantore is hoping to get his hands on a new TV and if his plan works he shouldn't have any difficulty.
"The system is you map it out," said Cantore. "You know where you're going in the store prior to it, because they put the maps online a couple of days in advance. Then you come in like on a Wednesday and you see where it is in the store and you count how many that there are so that you know you're going to get one when you come stand in line."
If you think waiting in line on Thanksgiving is dedication, imagine waiting in line all week. That's what many shoppers have done outside Best Buy stores. At the one in Mira Mesa, shoppers put up tents as early as Tuesday and camped out for a good spot in line.
Camper Jamiel Reyes said he's expecting a mad dash when the doors open.
"I'm like expecting everyone just going to be running around," said Reyes. "Grabbing everything they want."