This is an archived article and the information in the article may be outdated. Please look at the time stamp on the story to see when it was last updated.
CORONADO, Calif. – San Diego County Supervisors voted unanimously Monday to spend $75,000 on a study to find out if adding a bike and pedestrian path under the bridge can become a reality.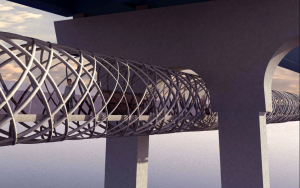 The idea would suspend a tube-like structure for pedestrian and cyclist pathway underneath the Coronado Bridge.
SANDAG will conduct the study to find out if the Coronado Bridge's structure would be compromised and how the county would handle public safety.
"This in my opinion would be the crowning touch," said San Diego County Supervisor Greg Cox.
The Navy has expressed concern over the 200-foot vertical clearance it needs for its ships.
The study will also determine the cost of the proposed "bike tube" path.