This is an archived article and the information in the article may be outdated. Please look at the time stamp on the story to see when it was last updated.
SAN DIEGO — Two of San Diego's busiest highways will be shutting down for construction this summer.
Caltrans is warning drivers of upcoming traffic congestion on both Interstate 15 and 805.
The first road closure will shut down all southbound lanes on I-15 from State Route 56 to Poway Road starting Saturday, July 27 at 7 p.m. through 4 a.m. Monday, July 29.
"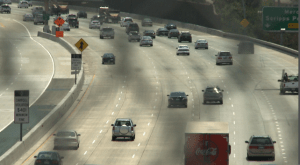 We're going to be installing a new drainage system," said Caltrans Corridor Director Gustavo Dallarda.
Drivers needing to access I-15 during the closure should exit SR-56 at Black Mountain Road, turn left and another left on Mercy Road to the I-15 south on-ramp.
The second major road closure will allow crews to demolish the East Palomar Street Bridge.  All lanes in both directions of the I-805 will be shut down.
It will be a 7-mile stretch from State Route 54 to State Route 905, starting at 3 p.m. Sunday, August 18, through 5 a.m. Monday, August 19.
Once the bridge is demolished a new one will be built with access ramps in the middle of the I-805.
"These direct access ramps will connect to the express lanes which will provide direct access for a brand new bus rapid transit system," Dallarda said.
Some congestion estimates put traffic delays over three hours.
All express lanes will be free near the construction through closure times, giving drivers some relief.
For I-805 commuters, the State Route 125-toll road will also be available for drivers free of charge.