This is an archived article and the information in the article may be outdated. Please look at the time stamp on the story to see when it was last updated.
SAN DIEGO — About 100,000 people lined Harbor Drive Monday to watch the 23rd annual Port of San Diego Big Bay Balloon Parade, part of festivities running up to the Holiday Bowl college football game.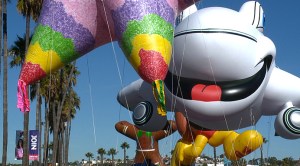 "This is a very special event for the port," said Ann Moore, the Port of San Diego chairwoman. "We've been sponsoring this from the very beginning and it's probably one of our most favorite events all year long."
Moore, during an interview along the parade route, said it gives people a chance to see San Diego's waterfront. She said it's "great advertising for the city."
The parade is touted by organizers as America's largest balloon parade, with huge inflatables representing children's' characters.
Kathyle Heap said she and her young son Adison, couldn't get enough of the gigantic balloons.
"The best part of the parade was seeing the Woody Woodpecker balloon," said Heap.  "My son doesn't even know who he is, so now we'll have to tell him about Woody."
Marching bands from the Holiday Bowl schools — Arizona State and Texas Tech — performed. Also on hand were high school marching bands from Delaware, Kansas, Nebraska and Ohio.
A Salvation Army band came all the way from Australia to perform in the parade. They'll head up to Pasadena for Wednesday's Tournament of Roses Parade.
Retired Rear Adm. John "Mac' McLaughlin, president and CEO of the USS Midway Museum, was the grand marshal.
The football game between the Sun Devils and the Red Raiders will kick off at 7:15 p.m. at Qualcomm Stadium.