This is an archived article and the information in the article may be outdated. Please look at the time stamp on the story to see when it was last updated.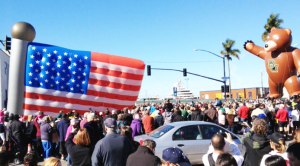 SAN DIEGO — Tens of thousands of San Diegans and visitors crowded the downtown waterfront area Thursday for the 22nd annual Port of San Diego Big Bay Balloon Parade Thursday.
The event, billed by organizers as the nation's largest balloon parade, took a different route because of construction on North Harbor Drive. Marchers, floats and 24 huge inflatable balloons were diverted onto Ash Street and Pacific Highway before finishing near Seaport Village.
Jared Gilmore from ABC's "Once Upon a Time" was the Grand Marshal.
Balloons included a space shuttle, the Lorax from the Dr. Seuss story and movie that premiered in March, a really giant panda, and the gingerbread man.
Parade festivities began with the finals of the 16th annual Wienerschnitzel Wiener Nationals, which pit eight of the fasted dachshunds against each other on a 56-foot track. A little brown canine stormed out of the third starting spot for a wire-to-wire win, and a $1,000 first prize for the owners.
The events also included a 5K run and a family festival on the Broadway Pier that featured performances from the marching bands of Baylor University and UCLA, the participants in tonight's Holiday Bowl.