This is an archived article and the information in the article may be outdated. Please look at the time stamp on the story to see when it was last updated.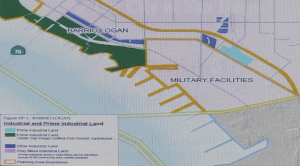 SAN DIEGO – A bid to invalidate signatures on petitions seeking to overturn new zoning regulations in Barrio Logan was rejected Tuesday by a San Diego judge.
Superior Court Judge Jeffrey Barton denied a request by the Environmental Health Coalition for a temporary restraining order that would have prevented the city of San Diego from taking action on the petitions.
The San Diego Ship Repair Association submitted the signatures, contending the update to the Barrio Logan Community Plan — which was approved by the City Council on a pair of 5-4 votes in September and October – will drive suppliers to shipyards out of the area.
The coalition, which helped developed the zoning regulations and supports the update, accused the association's signature gatherers of falsely representing the issues.
The judge acknowledged a high legal standard for intervening in electoral and legislative processes.
A statement of reasons urging people to sign the petitions contained opinions, but not falsehoods, while signature gatherers who were videotaped mainly went "off script" during a heated debate over merits of the new zoning regulations, the judge said.
"To intervene solely based on the evidence of a few misstatements made in heated exchanges with referendum opponents without an objectively false Statement of Reasons is contrary to the judicial restraint described in the appellate case law," Barton wrote in his ruling.
The ship repair association turned in two sets of petitions, one challenging each City Council decision.
One had more than enough valid signatures to force the City Council to schedule a public vote on the issue or rescind its action.
Signatures on the other petition are still being counted.
Shipyard officials contend a buffer zone established by the community plan update — designed to separate heavy industrial uses from residential areas in the economically disadvantaged neighborhood south of downtown – will eventually force their suppliers to move.
They said that would drive up the costs of doing business in San Diego and cause job losses.
The Environmental Health Coalition has said out-of-town corporations are using falsehoods to undo five years of work on the update.
The group also points to a statement in an environmental impact report that the plan will actually increase the number of jobs.
The judge said the coalition will have ample opportunity to litigate the case without a TRO, since any public vote would not come before June.
The zoning plan has become an issue in San Diego's mayoral campaign.
Councilman David Alvarez guided the update through the City Council, while colleague and runoff opponent Kevin Faulconer has been a leading spokesman on behalf of the shipyards.