This is an archived article and the information in the article may be outdated. Please look at the time stamp on the story to see when it was last updated.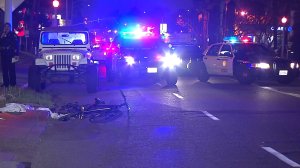 SAN DIEGO — San Diego police Tuesday searched for a motorist who fled the scene after striking and seriously injuring a 44-year-old man on a bicycle in Point Loma Heights.
The hit-and-run crash in the 3700 block of Midway Drive happened shortly before 11 p.m. Monday, according to San Diego police Officer Dino Delimitros.
The man was riding his bicycle northbound when a silver Mercedes or Lexus sedan with dark trim, also traveling northbound, rear-ended with man for unknown reasons, Delimitros said in a statement.
"The sedan did not stop but continued northbound on Midway Drive," he said, adding the bicyclist suffered a head injury and dislocated shoulder. He was expected to survive.