This is an archived article and the information in the article may be outdated. Please look at the time stamp on the story to see when it was last updated.
FALLBROOK, Calif. – A 19-year-old woman was arrested on suspicion of driving under the influence following a crash that killed a bicyclist Tuesday in the Pala Mesa area, authorities said.
Sulem Areli Garcia, 19, of Fallbrook, was driving her 2002 Ford Explorer northbound on Old Highway 395 south of Pala Mesa Drive just after 3 p.m. when she hit the cyclist, California Highway Patrol Officer Jim Bettencourt said. The driver veered to the right and hit the 59-year-old Fallbrook man, who was riding his bike.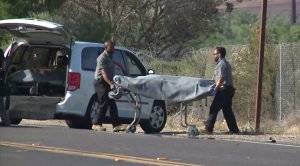 The bicyclist died at the scene, Bettencourt said.
CHP officers said Garcia was not injured.
Garcia was booked into Vista Detention Facility and may face charges including felony driving under the influence of drugs and felony vehicular manslaughter.