This is an archived article and the information in the article may be outdated. Please look at the time stamp on the story to see when it was last updated.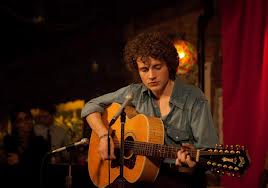 I recently saw a screening of Greetings from Tim Buckley. He's one of the underrated singer/songwriters from the '60s and early '70s, and his son Jeff recorded one of the best covers in music history – his version of the Leonard Cohen song Hallelujah. Hearing those great songs recently got me thinking about movie soundtracks.
Someone sent me a list a writer compiled of the 10 best soundtrack albums of all-time. The email said that they knew I was into music and movies and thought I'd like seeing it. I could've guessed half the list, and it was poorly done.
I got excited by the prospect of doing my own list, until a few things immediately jumped out at me. A lot of lists about soundtracks have Prince's Purple Rain – one of the few things Prince did I actually don't like; but more important – is it fair to put something like that on a list? I loved The Beatles A Hard Day's Night, The Band's Last Waltz, The Who's Tommy (and Quadrophenia), Grease, and Chicago soundtracks. The last soundtrack I remember buying was Once. What beautiful songs, but these movies are all based on music. It's hardly fair to put them on a list like this.
I also didn't want to put lazy, greatest hits soundtracks on here. I know a couple in their 60s that think The Big Chill is the best soundtrack ever. Well, those filmmakers took a bunch of great '50s and '60s songs and put them in a movie. Why wouldn't it be good? The same goes for American Graffiti. And, I don't just use this logic for '50s songs. Stanley Kubrik's groundbreaking 2001: A Space Odyssey – was the first soundtrack to use classical music for scenes, instead of composing new pieces. They became so well known for the specific scenes they were used it, and it was done brilliantly. I just think that takes it out of the running for best soundtrack album.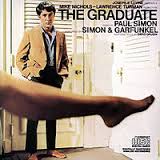 The Graduate is an album with a highly touted soundtrack. Why? It's got some jazz pieces from Dave Grusin, and the rest of it is just a Simon & Garfunkel record. As much as I disliked the movie Easy Rider – that's a 60s soundtrack that should make lists.
I also realize there are going to be some movies I didn't see, or personal preference keeps some soundtracks off my list.
But here they are, in no particular order. It's the most extensive list of movie soundtracks you'll ever read.
— PULP FICTION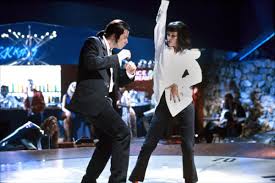 This movie came out the same year as Forrest Gump. Someone had given me the 2-CD set from Gump as a gift, and I opened it up and had no expression on my face. He said, "You have it already, don't you?" As I turned it over to look at the songs I said "Sort of." I had every one of those songs on the original albums they appeared. And really, did we need to hear CCR's Fortunate Son in the Vietnam scene? That's been done to death. Everybody's Talkin' was great in Midnight Cowboy, not in Gump. Yet Pulp Fiction – which won the best screenplay Oscar that year (Gump won just about everything else, including best adapted from a previous work, which should've gone to The Shawshank Redemption, but I digress). Pulp would've easily won the best soundtrack of the year if there were a category. It starts off with Dick Dale, and has a blend of soul, surf, and funk. And how refreshing to have the more obscure songs from Chuck Berry and Rick Nelson (You Never Can Tell and Lonesome Town). Urge Overkill covering Neil Diamond, Jungle Boogie, the best Kool & the Gang song, is on here. And a song I never knew and is now a favorite – Maria McKee (Lone Justice) doing a melancholy ballad "If Love is a Red Dress (hang me in rags)." You barely hear it in the movie (when Bruce Willis first enters the pawn shop, it's playing in the store). And in keeping with the Quentin Tarantino tradition (he was the first to ever do this with soundtracks, on Reservoir Dogs)… he has excerpts of dialogue in between a few of the tunes. I actually think in this, it doesn't work as well as it could've (we didn't need the entire scene of Samuel Jackson and John Travolta discussing Burger King); but it's something I wish more soundtracks would do. When I made a mix tape for someone as a kid, I put Jack Nicholson yelling "Here's Johnnny!" right before it went into a John Lennon song. Have fun with these soundtracks, and let us hear the actors and not just the singers (although I say that, and thought it sounded rather corny in such a sultry score in Out of Sight).
— O'BROTHER WHERE ART THOU?
This is the first time I recall liking a soundtrack more than the actual movie. I'm not the biggest lover of country music (which is why Nashville, despite winning the Oscar for best song, isn't on my list). This is more Americana. Allison Krause and the other bands sound great. My favorite track is the Soggy Bottom Boys doing Man of Constant Sorrow (gotta love George Clooney pulling down his fake beard to lip synch).
— 8 ½
Fellini made a few gems in the '60s, and this semi-autobiographical story about a director that feels trapped, easily has the best score of any of his films or any movie in that decade. The score is done by his longtime collaborator Nino Rota, and that helps enhance the dreamy flashback sequences. You hear some classical, cabaret, jazz, and some scenes are like a carnival. It's safe to assume Wagner's Ride of the Valkyries was more famously used in Apocalypse Now. Yet when you hear it hear, you'll no exactly why Francis Ford Coppola thought to use it.
— GROSSE POINTE BLANK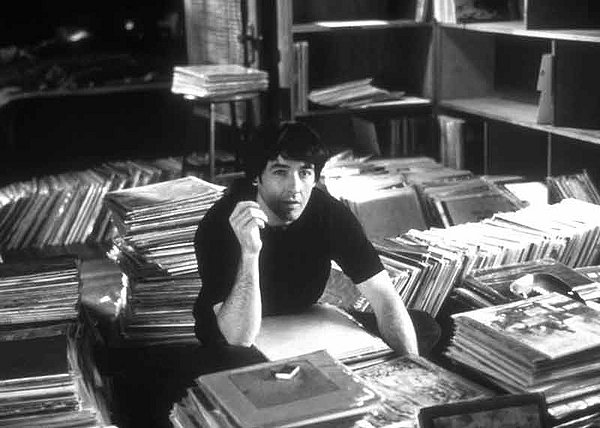 It was weird that the year of my 10-year high school reunion, two reunion movies came out (this and Romy and Michelle). Minnie Driver played a hip DJ, and The Clash's Joe Strummer composed the soundtrack – not a bad start. The Violent Femmes, The Jam…even the horrible Guns 'N Roses cover I'll give a pass, since the rest of the songs kick ass.
— NATURAL BORN KILLERS
Another soundtrack I liked more than the movie, and another Tarantino project (he wrote the screenplay). Nine Inch Nails mastermind Trent Reznor produced this thing (he won a Golden Globe for scoring the music in The Social Network and got an Oscar nomination for The Girl With the Dragon Tattoo). It's got Leonard Cohen, Patti Smith, L7, Jane's Addiction, Peter Gabriel, Duane Eddy, Dylan, and a nice Screamin' Jay Hawkins cover, as well as the best cover in rock history – the Cowboy Junkies doing Sweet Jane.
— 200 CIGARETTES
The list my friend sent me had Reality Bites. Come on! A soundtrack should encapsulate a films theme and era, and Reality Bites has its moments (music wise, I just didn't like the movie). Cigarettes isn't a great movie, but a much better soundtrack. Let's just compare at what we'd rather have define Generation X: Bites gives you The Knack, U2, Lenny Kravitz, and the lame Baby, I Love Your Way. 200 Cigarettes gives you Nick Lowe, The Cars, Blondie (not a hit, but In the Flesh), Bow Wow Wow, Ramones, Joe Jackson, Roxy Music, and Elvis Costello. Not even close.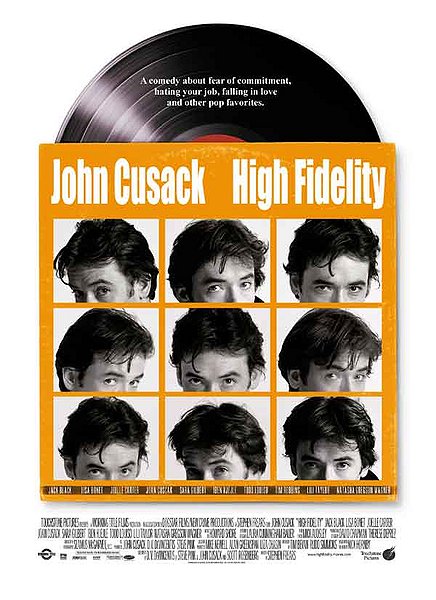 — HIGH FIDELITY
I loved the movie, and the soundtrack had to be good (the movie was about record store clerks that are snobs with their music tastes, and a store owner who's also a club DJ); from the Beatlesque cover, to the track listing: Kinks, Love, Velvet Underground, Stevie Wonder, Costello, and even the unknown star at the time — Jack Black — crooning Marvin Gaye. In a movie that makes lists about everything, this soundtrack would make my list of best soundtracks (I don't think Lisa Bonet's version of Baby, I Love Your Way made it on – which is a good thing).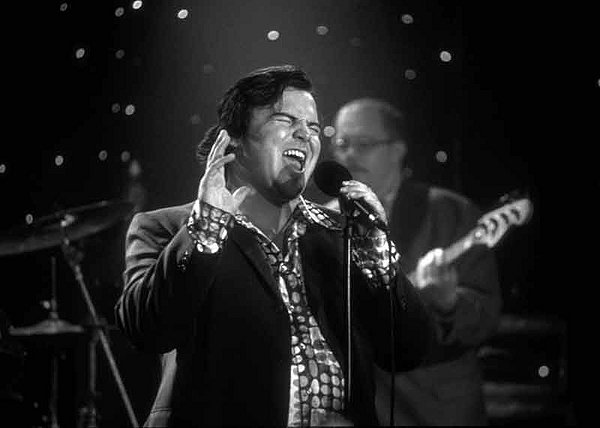 — ALMOST FAMOUS
It wasn't my favorite Cameron Crowe movie, but the soundtrack is solid. They went with Simon & Garfunkel's great America, and Tiny Dancer  works so well, because we think about the band bonding on a tour bus as they all sing along after a huge fight. There's some good Bowie on it, too.
— GARDENSTATE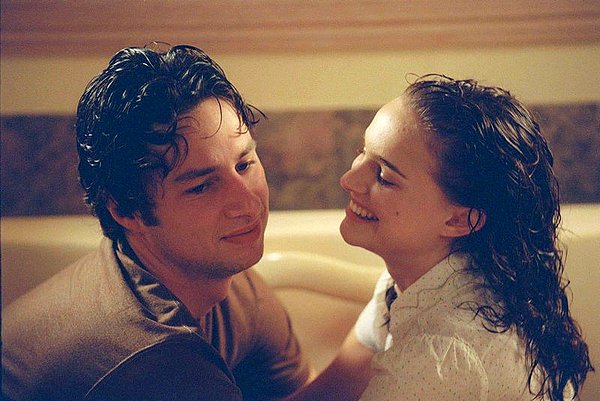 I'm the only one I know that didn't care for Zach Braff's show Scrubs, but I loved this little indie film he wrote, directed, and starred in. He was so passionate about the music on it, he wrote scenes around the songs. He even did things like getting a singer/songwriter he liked but is no longer hip (Colin Hay of Men at Work), who contributed a great ballad. It has The Shins (although I think the soundtrack should've started the song with Natalie Portman praising the band as she did in the movie), Iron and Wine (that's one band, not two), and another more obscure Simon & Garfunkel tune – The Only Living Boy in New York.
— TRAINSPOTTING
I loved this Danny Boyle (127 Hours, Slumdog Millionaire, Trance) movie, from it starting with Iggy Pop's Lust for Life (before we heard it in a million commercials), to the club vibe of the David Bowie and Brian Eno tracks. The Lou Reed song Perfect Day played while a guy ODs and slides into the carpet was pure genius.
— RUSHMORE
I was glad the movie didn't get nominated for an Oscar (a lot of critics, and Conan O'Brien, were mad it wasn't). The soundtrack, with its collection of 60s British bands, rocked. The Faces, The Kinks, and if you're using a John Lennon song to show Bill Murray working out with Jason Schwartman – who would've thought to go with Oh Yoko? It was a magical scene.
— EASY RIDER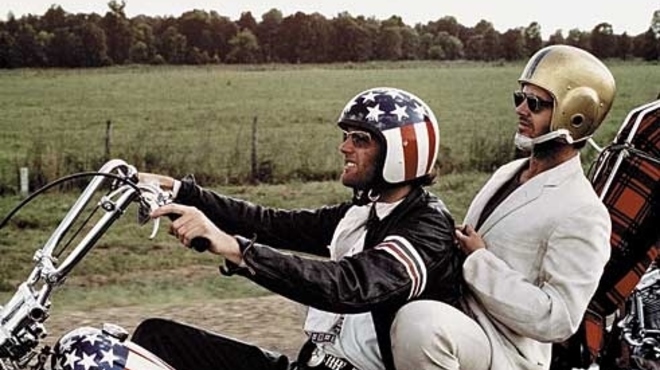 The movie is dated, but the soundtrack holds up nicely. How could it not? It has Steppenwolf; not just Born to be Wild, but the underrated Hoyt Axton penned The Pusher. You'll also hear The Byrds, The Band, Carole King, and Hendrix.
— SINGLES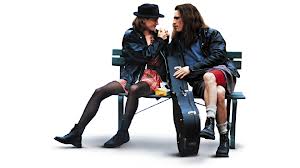 Another Cameron Crowe film, and having a story about 20-year-olds in Seattle, he uses lots of grunge stuff. Pearl Jam, Alice in Chains, Soundgarden, Paul Westerburg – a nice compilation of tunes. Crowe got his start writing music things locally (I have some KGB Homegrown albums where he wrote liner notes). He quickly moved on to bigger and better things at Rolling Stone – before marrying someone from a Seattle band (Heart), and writing/directing great films.
— ANIMAL HOUSE
San Diegan Stephen Bishop (On and On, Something's Telling Me it Might Be You), did a lot of the songs on this. He also played the hippie who has his guitar smashed by John Belushi at a party. I'm not sure why they didn't have that goofy 60s style ballad on the soundtrack. Bishop told me he did get the entire cast to sign the guitar and he still has it. The soundtrack gives us Otis Day and the Knights, covering the Isley Brothers Shout and a love song called Shama Lama Ding Dong. Belushi belts out Louie Louie about as clearly as The Kingsmen and Iggy Pop did. We also get the best vocalist of the '60s – Sam Cooke.
— SWINGERS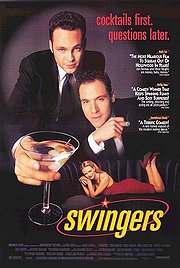 Great movie, great soundtrack. I'm not a Dean Martin fan, but all the other swing tunes (Big Bad Voodoo Daddy especially) were great, and fit nicely with King Floyd doing Groove Me, and songs like Knock Me a Kiss, With Plenty of Money and You, and Pick Up the Pieces is now used in other movies just based on the scene in slow motion (a take-off of Goodfellas). And it ends nicely with Bobby Darin.
— EYES WIDE SHUT
I'm not sure why more people didn't like this movie, or thought Tom Cruise and Nicole Kidman didn't have "chemistry." They were in a marriage that wasn't doing so hot (both in the movie and in real life). Anywhooo…Stanley Kubrick had his usual classical pieces filling at 75% of the disc, but we also get Chris Isaak doing Baby Did A Bad Bad Thing. It's the best best thing he's ever done.
— FAST TIMES AT RIDGEMONT HIGH
I remember saving my allowance to buy this at Duffy's Records & Tapes in the Mira Mesa Mall when I was 13. It was $12.99 because it was a two-album set. I was bummed that in the movie we heard Led Zeppelin's Kashmir, and it wasn't on this. We heard Moving in Stereo while Phoebe Cates took her top off. It's not on here. I then realized that I had those songs on other records, and this soundtrack was filled with big name musicians that did songs specifically for the movie. I can do without Jackson Browne's song, but Jimmy Buffett surprisingly rocked a bit with his I Don't Know. There's a funny song from Joe Walsh (Waffle Stomp), a nice ballad from Don Henley, The Go-Go's, and one of the most beautiful ballads ever — Stevie Nicks singing Sleeping Angel, during the abortion scene.  Billy Squier and Sammy Hagar do some hardcore rockin' with their songs, both called Fast Times. Oh, almost forgot – Oingo Boingo end the party singing Goodbye, Goodbye. Be warned – I bought the VHS tape when it came out, and none of these songs were on it. I'm guessing this has to do with licensing in which the bands were only paid for their songs being used in the movie at the theatres and the soundtrack album – not video. I'm not sure if this has been straightened out with the invention of DVDs and Blu Ray.
— DICK TRACY
I remember when it was a lot more infrequently that super hero movies were made. You'd get Superman, and it would be four years before another super hero made it to the big screen. I immediately had a problem with Warren Beatty playing Dick Tracy, because he couldn't even use make-up to give himself a huge, square jaw (Dustin Hoffman and Al Pacino were game in the make-up department). For legal reasons, the great songs Madonna did at the time don't appear on the soundtrack (but on her own record). It's still great. There's Jerry Lee Lewis, kd lang, Al Jarreau Brenda Lee, and Patti Austin belting out The Confidence Man with a helluva lot of confidence, and Darlene Love, who made the Rock 'n Roll Hall of Fame a few years ago, and is featured prominently in the great new documentary 20 Feet from Stardom. Check that out when it comes out in a few weeks. It's one of my favorite movies of the year.
— HEAVY METAL
The legalities thing with Madonna, made me immediately think of this. For decades the movie wasn't available and neither was the soundtrack. The bands had signed contracts that said the music could be used in the movie only. It took over 15 years to get that settled. The soundtrack gave us Devo covering Working in a Coal Mine, two Cheap Trick songs, double Don's – Felder and Fagen, two ballads (Journey, Stevie Nicks), Sammy Hagar (again showing he rocks more on soundtracks than with Van Halen), B.O.C., Sabbath, and a few other hard rockers.
— SATURDAY NIGHT FEVER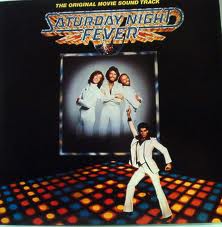 I remember the pimply-faced kid all pierced, covered in tattoos, at the used CD store on Miramar Road smirking as I bought this on CD. He had an Iggy Pop shirt and called out to the person behind him filing CDs. He showed him my purchase as if it was something to make fun of. I said "Look idiot, I grew up with this movie and soundtrack. Besides…making fun of purchases customers make, because you're some idiot hipster that thinks your taste is cooler than everyone else in the world…You think Iggy Pop would think you're idiotic piercings are cool? He'd think you were a dope. And ya know what? I bet I know more about Iggy and the Stooges than you do. So just ring up my purchase, look at the clock and count the hours until your minimum wage shift here ends and you can go spend the rest of your night rehearsing in some garage with a band that'll never make it."
The strange thing is – after I finished my little tirade — I still felt a little self-conscious of my purchase; so I added "Besides…this isn't even for me. It's for my girlfriend."
But in reality, it was for me (if anyone makes fun of me online, I'll claim it wasn't for the Bee Gees, but Kool and the Gang doing Open Sesame, or Yvonne Elliman doing the wonderful If I Can't Have You).
— THERE'S SOMETHING ABOUT MARY
People say I never give good reviews to comedies. I do, when they're funny (I'm one of the few critics to give The Internship a good review). I thought this movie was hysterical, and the soundtrack was great. It had the Dandy Warhols, Ben Lee, The Lemonheads, and one of my favorites – Joe Jackson (not to be confused with Michael Jackson's dad). What makes the soundtrack is one of the most underrated songwriters in music – Jonathan Richman (Modern Lovers). He and his longtime drummer did the various short songs that played between the segments, and acted as the narrator of the film. Richman is one of those singer/songwriters that everyone in the movie and music industry loves (Conan O'Brien has said he's one of his favorites); yet when he plays in town, it's for 130 people at the Casbah. I know, I've seen him twice.
— SO I MARRIED AN AXE MURDERER
This soundtrack disappointed me so much when I got it. That's because they only had one poem done by Mike Myers. His character often went to beat clubs in San Francisco and he had a backing band playing behind his bizarre poems/songs. The one they included on the soundtrack (This Poem Sucks) was the least funny of the bunch.
The soundtrack has so many catchy tunes – There She Goes by the Boo Radleys, and Toad the Wet Sprocket, Big Audio Dynamite, The Darling Buds, The LA's, and Ned's Atomic Dustbin. I can forgive it for having the Spin Doctors Two Princes.
— THE SQUID AND THE WHALE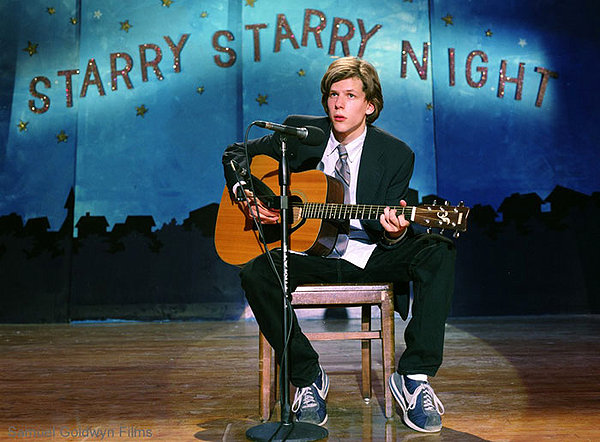 People either loved this movie or hated it. It was dark, but I loved it (Noah Baumbach finally made another good movie, with Frances Ha, which is still out). Even when his movies aren't so great, his soundtracks are. This has three songs from the folky Bert Jansch, a guitarist everyone should know (Jimmy Page says he's one of his favorites, and he's even stolen a few riffs from him). There are two Loudon Wainwright III songs, a great John Philips track, a throw-away Cars tune (Drive), and one of the best Lou Reed songs ever, ends the movie powerfully – Street Hassle.
— GOOD WILL HUNTING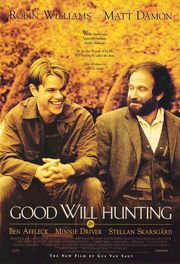 It's a shame that the song Miss Misery was nominated for an Oscar the same year Celine Dions Titanic tune was. Elliot Smith has powerful songs (he ended up killing himself, but not over losing the Oscar), and you can almost feel his depression in them. Danny Elfman (who else?) did the score. It also has songs from Luscious Jackson, Al Green, Dandy Warhols, and one of the best songs of all-time, Gerry Rafferty's Baker Street.
–CADILLAC RECORDS
This was a good movie. It's just a shame they fictionalized so much of what happened with Chess Records. It was the home of early rock 'n roll and Chicago blues. The soundtrack has re-recordings of the Chess artists. Unlike when Los Lobos covered La Bamba while Lou Diamond Phillips lip-synched, these guys were in the movie. Beyonce Knowles plays Etta James (her singing is better than her acting). She does four songs, Mos Def is brilliant as Chuck Berry, Jeffrey Wright plays Muddy Waters (I'm a Man, Hoochie Coochie Man), perhaps the closest at sounding like the original artist. That's odd, considering he's the one cast member that was actually an actor and not a singer.
Eamonn Walker plays a menacing Howlin' Wolf, doing Smokestack Lightning (one of many blues songs Led Zeppelin ripped off). And even though they're not in the movie, we get to hear tracks from Buddy Guy and Elvis Presley (My Babe).
Soundtracks that didn't make the cut, but are in my collection:
—The Basketball Diaries (PJ Harvey, Jim Carroll, The Doors);
—Out of Sight. I love how the movie was scored, with beautiful keyboards; that was ruined by dialogue of George Clooney played over those beautiful songs. I'm all for dialogue on the soundtracks, just not over the tunes! Having two Isley Brothers songs is great, also
—Boogie Nights. The only reason this soundtrack doesn't make the list is they released it as two CDs. Lame. Oh, and they put Sister Christian on one of the discs. Funny in the movie, but we don't want to hear the song in our car. Great tunes from Hot Chocolate, The Move, Rick Springfield (yes, Jessie's Girl is a great song), Three Dog Night, Melanie, War, ELO, and the Beach Boys. Scored nicely by Michael Penn, who was a decent singer/songwriter (Sean's brother), but mostly does music scores these days.
* LATEST UPDATE: a few of my friends read this story and immediately sent me angry emails about stuff I missed.
One told me "How could you not include When Harry Met Sally?"
Well, Harry Connick Jr. did sound great singing those standards (in fact, he won his first Grammy for Best Jazz Male Vocal for that soundtrack). I do own the soundtrack, I'm just not the biggest fan of these types of songs. Perhaps if they would've included Billy Crystal singing The Surrey with the Fringe on Top from Oklahoma (the scene where he runs into his ex-wife), perhaps then it would've made the cut.
That same friend brought up Casablanca. It's one of my all-time favorite movies, but again…you don't grab that soundtrack when you're doing that road trip to Vegas. The only song I can remember from it is As Time Goes By. I'm guessing there's a nice piano score to accompany things, but…Casablanca doesn't deserve to be anywhere on this list.
Somebody brought up Elizabethtown, another Cameron Crowe movie (he has the most on this list). The only problem I have with that is – I NEVER SAW THE MOVIE! I just Googled the soundtrack, and saw there was original music from his ex-wife Nancy Wilson (Heart), Tom Petty, Elton John, Ryan Adams, Lindsay Buckingham, and My Morning Jacket.
Someone mentioned The Last Temptation of Christ. The soundtrack worked for the movie, and it won Peter Gabriel a Grammy in the "best new age album" category in 1990. I'm just not big into world music and new agey stuff.
Somebody mentioned The Sting – and that's interesting, because the Scott Joplin (The Entertainer) rags are great in the film. It all works wonderfully, in fact. I just don't think of it, again, as a soundtrack I want to throw in my car when I'm heading up to L.A. or somewhere.