This is an archived article and the information in the article may be outdated. Please look at the time stamp on the story to see when it was last updated.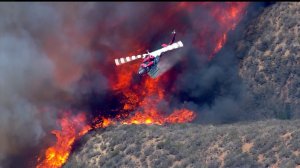 SAN DIEGO — A backhoe in use at a housing construction project near Rancho Bernardo sparked the first large wildfire to erupt in San Diego County this week, authorities reported Friday.
The Bernardo Fire broke out about 11 a.m. Tuesday off Nighthawk Lane in 4S Ranch amid hot, dry and gusty conditions.
Pushed to the west and north by stiff Santa Ana winds, the flames blackened nearly 1,600 acres between Rancho Penasquitos and Rancho Santa Fe, prompting the evacuation of about 20,000 households but causing no structural damage or serious injuries, according to Cal Fire.
On Wednesday, some of the crews working to subdue the blaze had to divert to other large local wildfires, include ones that destroyed homes and other structures in Carlsbad and San Marcos.
Investigators determined that the Bernardo Fire began as a crew was excavating trenches to test soil at the work site near Del Norte High School.
After digging and then covering one of the troughs, they started moving to the next excavation location, according to the San Diego Fire-Rescue Department. They then noticed flames spreading rapidly through dry brush and tried in vain to extinguish them before fleeing for their own safety, officials said.