This is an archived article and the information in the article may be outdated. Please look at the time stamp on the story to see when it was last updated.
SAN DIEGO — Buddy, a beloved black lab that disappeared during the 2007 wildfires, has finally found his way back to his family after six and half years.  The Hartman family, who lost their home during the fires, had evacuated to El Cajon when Buddy went missing.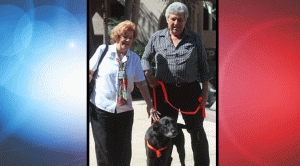 "We put Buddy in the backyard and buddy decided to escape, and somebody driving by opened their door and he got in their car," said John Hartman via Skype from the family's new home in Oklahoma. "Buddy would do that to anybody."
For years the family heard nothing.  A week ago, they were on the way to San Diego to visit their son when they got a call from the San Diego County Department of Animal Services.  A micro chipped dog had been found in Golden Hill.
"I was pretty shocked," said Hartman when he realized it was his pet. "When we finally got to see him he looked the same. Somebody really took care of him."
Hartman said Buddy came to him as soon as he called his name.
"It would be interesting to see his odyssey that six and a half years but I guess we'll never know," he said.
Hartman said the people that took care of him all this time are probably wondering where he is now.  He said Buddy has adjusted well to his new life in Oklahoma and the family's other two dogs.
"He's a little slower. I don't think he's as inclined to run away now; he's ten years old," said Hartman. "I guess the lesson is if people have a dog and they put a chip in them eventually they'll find their way back."