This is an archived article and the information in the article may be outdated. Please look at the time stamp on the story to see when it was last updated.
ESCONDIDO, Calif. -- A 7-foot, 15-pound boa constrictor has been missing from an Escondido animal museum for nearly two weeks.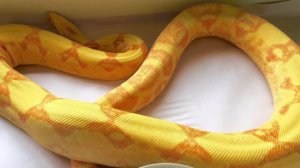 The 5-year-old snake, named Lemony Snicket, is an albino red-tailed boa that is a rescue animal, like most of the reptiles and amphibians at EcoVivarium, a living museum.
"Lemony is one of our ambassador animals that came to us when he was just about 6 months old. He was not in good shape. He's one of our special ambassadors that goes out to work with our special-needs kids. They love and adore him," said Susan Nowicke, president of EcoVivarium.
The staff believes a man stole the snake during a tour with about 10 people back on April 29.
"He stepped away –- what we thought was to go to the bathroom –- he never rejoined the tour," Nowicke said.
After the tour, the staff first thought the boa escaped on his own. But later, they  noticed the security camera facing his enclosure was damaged.
"Based on what we could see from the damaged security camera, [the man] came back here, didn't go into the restroom. He stopped by Lemony's cage. We saw foot movement because that's all the camera was showing -- then the feet leaving," said Nowicke.
Nowicke says she talked with police, but they said they don't have much to go on. She also alerted pet stores, in case the thief tries to sell the boa, which really isn't worth all that much, because it is a very common species.
But for the museum, he's priceless, and Nowicke is hoping someone will return Lemony Snicket.
"No questions asked. We're not going to hassle you. We just want him back home. The kids miss him -- he's a big part of this program," said Nowicke.