This is an archived article and the information in the article may be outdated. Please look at the time stamp on the story to see when it was last updated.
SAN DIEGO – The owner of Belmont Park has spent more than $6 million upgrading the Mission Beach amusement park and the adjacent Wave House.
"We had to go through and replace a lot of the steel that had been corroded and rusty," Eat.Drink.Sleep CEO Brett Miller said. "We repainted the entire park. We've cleaned up the restrooms. We did not leave anything untouched and we still have more to come."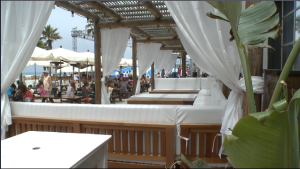 Visitors can still ride the wave, but now there are better views of the beach and cabanas to take it all in.
The menu is also more sophisticated. More high-end food items like the Maine lobster salad have been added to the already existing family favorites.
There will be more for the adults as well. Construction is almost finished on Cannonball, a new rooftop sushi bar that is scheduled to open July 4.
"This summer, our team has created an environment that's better than San Diego has seen in many, many years," Miller said.
San Diego resident Peggy Scott said she brings her family to Belmont Park once a year.
"It looks like they've added more, it's very clean," said Scott, as she watched her grandkids climb the new rock wall while others walked through the spruced up park.