This is an archived article and the information in the article may be outdated. Please look at the time stamp on the story to see when it was last updated.
POWAY, Calif. – As a little girl growing up in Puerto Aysen, Chile, Katherinne (Katty) Daniels had big dreams. She knew someday she wanted to see Disneyland, the Hollywood sign and the Golden Gate Bridge, but she never imagined she would one day call herself an American.
"I knew that whatever I did with my life, I had to go back and show my dad I did something," Daniels said.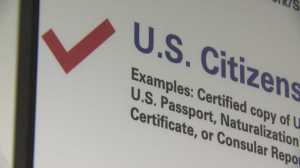 Her first trip to America was in 1999 with her then boyfriend. Three months later, at just 20 years old, she was married and packing her bags to California.
"When I came to this country 14 years ago my husband's mom, who is from Spain, said, 'if you are going to live there, make sure you speak the language,'" Daniels explained.
Daniels took English as a second language classes and also learned to drive. She also earned a cosmetology license so she could be a hairstylist.
In 2008, Daniels started her own hair salon called Le Salon Du Kat in Poway. After two years as the boss, she realized her influence was limited by her immigrant status.
"I realized that I needed to participate in civic life so I could make decisions to help the salon, and the only way I could give my opinion was voting," she said.
To vote, you have to be an American citizen, and so Daniels started her thinking about doing just that.
For the last several months, FOX-5 was granted rare access to the United States Citizenship and Immigration Services (USCIS). Our cameras followed Daniels on her journey to citizenship.
"The underlying thing I see with almost everyone who becomes a citizen is they have reached a point where they realize that this is their country," said Marie Sebrechts, USCIS Southwest Media Manager.
"It's easy to say, 'Get in line,' except that some people have no way to get in line. You can't become a citizen unless you are first a green card holder," Sebrechts explained.
The federal government hands out 1.2 million green cards a year. In order to obtain one, applicants need an employer or family member to sponsor them. This person essentially guarantees the government that he/she will financially support the immigrant, according to USCIS.
Legal immigrants and permanent residents pay taxes, hold jobs and can get a driver's license. They cannot however, vote or sit on a jury. After five years with a green card, an immigrant can apply for citizenship.
"I think people often confuse legal immigrants and illegal immigrants, there is a very big difference," said Daniels.
The entire citizenship process takes about 4-6 months, a vast improvement from the 1-year waiting period just a few years ago.
Once an application is accepted, the immigrant needs to complete a biometrics test and written and oral test. Those tests need to be completed in English unless USCIS grants an exception, which is rare.
The process costs $680.
USCIS is one of the only federal programs that are not subsidized with taxpayer dollars.
"That $680 from immigrants is what supports our organization," Sebrechts said.
Daniels passed her all of her tests and is scheduled for her naturalization ceremony on November 29 at 9am at Golden Hall in San Diego.
She started tearing up when she found out she is now just one step away from becoming an American.
"It's very emotional. From the movies, I thought you come here and everything is easy and there lots of money and work and you can be rich and pretty and famous. In reality, I feel there is an American dream if you work hard," Daniels said.