This is an archived article and the information in the article may be outdated. Please look at the time stamp on the story to see when it was last updated.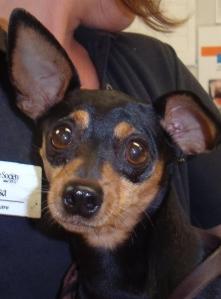 OCEANSIDE, Calif. — An animal-rights group put up a $2,000 reward Wednesday for information leading to the arrest of the person who choked and beat a dog in an Oceanside parking lot.
The $2,000 reward offered by San Diego Animal Advocates is in addition to a $1,000 reward offered by San Diego County Crime Stoppers, according to the San Diego Humane Society.
On Sept. 12, humane society officers found the dog — a 4-year-old miniature pincher later named Marissa — in a crate in the 2200 block of El Camino Real. Authorities gave Marissa immediate medical care and, about a month later, she was well enough to be put up for public adoption.
A family with two other dogs adopted Marissa and renamed her BeBe, Humane Society spokeswoman Kelli Herwehe said.
Anyone with more information about the culprit was asked to call Crime Stoppers at 888-580-8477 or the Humane Society at 619-243-3466.