This is an archived article and the information in the article may be outdated. Please look at the time stamp on the story to see when it was last updated.
CARLSBAD, Calif. – A 59-year-old woman was cruising on a bike along the coast in Carlsbad when she collided with a car and died Wednesday morning, police said.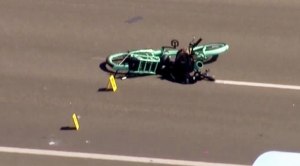 The witness told FOX 5 a person was riding south in a designated bike lane and veered into traffic as a Ford Fiesta was passing her in the same direction on Carlsbad Boulevard, south of the power plant.  The crash happened just after 10:15 a.m.
"I had to see her taking her last breath. That's something that's going to stay in my head for awhile, you know?" said Erik Chase, who was nearby at the beach when the crash happened.
Joyce Koven Smith, a Cardiff-by-the-Sea resident, was killed in the crash with the Ford driven by a 64-year-old woman, Carlsbad police said.
Southbound lanes of Carlsbad Boulevard were closed between Sequoia Avenue and Tierra Del Oro Street because of a fatal traffic collision, according to police.
The driver stayed at the crash site.
"She was crying. The police gave her a towel. She put her head down – she was weeping," said Chase.
Drugs and alcohol are not believed to have played a factor in the crash, police said.
Car hits and kills woman on bike on Coast Hwy in Carlsbad… Updates @fox5sandiego pic.twitter.com/XNagsVKNyJ

— Jason Sloss (@JasonSlossFOX5) March 16, 2016