This is an archived article and the information in the article may be outdated. Please look at the time stamp on the story to see when it was last updated.
SAN DIEGO – A total of 450 volunteers gathered for a massive beach cleanup this morning which netted 2,500 pounds of trash.
Surfrider, I Love A Clean San Diego, and San Diego Coastkeeper were the three organizations that joined the effort.
"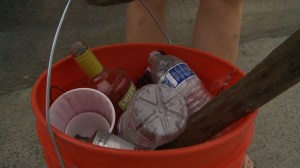 I picked up a lot of alcohol bottles and caps," said Tiffany Swiderski.  "I found nail clippers and chewing tabacco."
Volunteers gathered in Pacific Beach, Mission Beach, Oceanside, and  Ocean Beach.  The sites were chosen because of the high concentration of beachgoers and reputations for post-Fourth of July garbage.  This year's event was sponsored by radio station 102.1 FM and healthy snack company, Clif Bar.
In Ocean Beach, beachgoers participated in the annual marshmallow fight that left behind a sticky mess.
"It's amazing how much we've cleaned up," said Ashley Churchill.  "The sand was covered in marshmallows."
Harley Blumenthal took time out to help clean up, and said he had to put a sheet over his head in order to avoid getting hit by marshmallows.
"Hopefully next year we can get more people to plant gardens instead of throw marshmallows," Blumenthal said.
A total of 195 pounds of recyclable material was collected which would otherwise have been swept into the ocean.
Another cleanup is scheduled for July 6th at the Oceanside Pier from 9 a.m. to 11 a.m.