This is an archived article and the information in the article may be outdated. Please look at the time stamp on the story to see when it was last updated.
SAN DIEGO — A Madison High School wrestling coach was arrested on suspicion of murdering a man in a Bay Park neighborhood Tuesday, investigators said.
The deadly gunfire in the 2200 block of Denver Street was reported shortly after 2:30 p.m., according to San Diego police.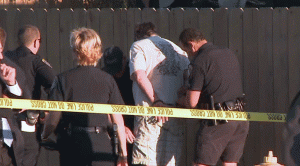 Friends of the victim told investigators they believed they knew who the shooter was, leading officers to the home in the 4600 block of Firestone Street in Clairemont, authorities said.
Officers surrounded the house and broadcast the name of the suspect throughout the neighborhood with loudspeakers.
"I saw police running behind a van with their guns out and a suspect with his arms directly in the air," said witness Maddy Varonfakis.
Jeret Needham, 42, surrendered to San Diego police at 6 p.m. after barricading himself in a house, authorities said.
Needham's longtime neighbor Jack Schmidt told Fox 5 News that he was shocked to hear of the arrest.
"I thought he was a good guy and wouldn't expect him to be part of a shooting," Schmidt said.
Police did not release the 45-year-old victim's name, but said he and Needham knew each other.