This is an archived article and the information in the article may be outdated. Please look at the time stamp on the story to see when it was last updated.
SAN FRANCISCO – Home prices in the Bay Area continued their upward surge in June, though buyers there are struggling with low inventory and still-tough lending requirements.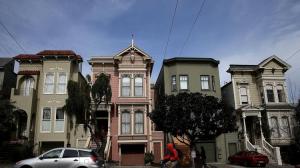 That's according to a new report Wednesday from DataQuick, which saw the median price in the nine-county region hit $618,000, its highest point in nearly seven years. In San Francisco, the median price reached $1 million.
Prices in the Bay Area grew 11.4% compared to last year. That's a slower pace than past months but considerably faster than the 7.8% clip recorded in Southern California in June. And the number of home sales grew for the first time since September, up two-tenths of 1% from last June.
The stronger economy in that part of the state is powering a stronger housing market, said DataQuick analyst John Karevoll.
"Trends in the Bay Area lead the rest of the state by at least half a year," he said. "The reason is straight out of Econ 101: Jobs."
Still, Karevoll said, the market is constrained by having relatively few homes for sale, and by lending requirements that are keeping many would-be buyers from being able to afford the homes that are on the market.
"There's a lot of opportunity out there for lending institutions that could expand their product lines," Karevoll said. "In today's Bay Area real estate market, for example, adjustable-rate mortgages should be much more widespread."
ARMs accounted for 26.6% of home purchase loans in the region in June, up from 16.9% from last year, but well below historic norms.