This is an archived article and the information in the article may be outdated. Please look at the time stamp on the story to see when it was last updated.
CHULA VISTA, Calif. — Chula Vista police sought the public's help Thursday to find a 27-year-old San Diego resident recently identified as the man seen in surveillance video beating two women with an aluminum baseball bat during a fight outside a bar two months ago.
Jorge Becerra allegedly grabbed the bat and struck both women in the head during a brawl involving several other people in front of the On the Rocks Bar at 656 E St. on Oct. 15, according to Chula Vista police. A warrant has been issued for his arrest.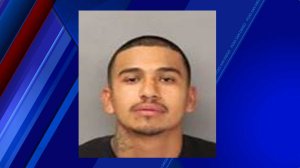 One victim sustained a laceration to the back of her head that required stitches. The other suffered "debilitating injuries" including fractures to her skull and orbital bone and needed rehabilitation, police said.
Becerra is Hispanic, 5 feet 9 and about 200 pounds, with black hair, brown eyes and tattoos on his neck and forearm. Police said he has gang ties and is considered dangerous.
Police urged anyone who spots Becerra to not approach him but immediately call 911. Anyone with information on his whereabouts is urged to call police at 619-409-5487 or 619-691-5151. Anonymous tips can be submitted by calling police at 619-422-8477 or Crime Stoppers at 888-580-8477.