This is an archived article and the information in the article may be outdated. Please look at the time stamp on the story to see when it was last updated.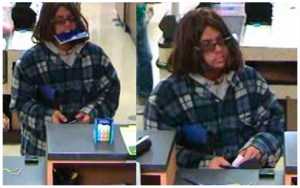 LA MESA, Calif – Police and the FBI were on the lookout Tuesday for the man who robbed a bank in a grocery store near La Mesa over the weekend in what appeared to be a brown shoulder-length wig and tan or bronze facial makeup.
The suspect used a demand note in robbing U.S. Bank at a Vons supermarket at 3681 Avocado Blvd. around 11 a.m. Saturday, according to FBI Special Agent Darrell Foxworth. He did not show a weapon, and no one was injured, Foxworth said.
Witnesses described the robber as white, in his mid-30s, about 5 feet 9 and 160 pounds. Aside from the brown wig that was parted down the middle and the makeup, he was wearing a blue plaid flannel jacket and glasses.
Foxworth asked anyone with information about the robbery to call the FBI at (858) 320-1800, or Crime Stoppers at (888) 580-8477.